Rachael Sage Announces New Album "Myopia" Out May 4
Press Release
•
updated: Feb 27, 2018
Releases First Album Track "Olivia" Via BlackBook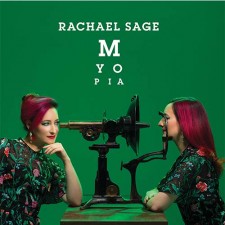 New York, NY, February 27, 2018 (Newswire.com) - Singer-songwriter, multi-instrumentalist and producer Rachael Sage has announced the release of her forthcoming album, Myopia, out May 4 via MPress Records/ILS/Caroline. In anticipation, Sage has released the first single "Olivia" via BlackBook. Listen and share "Olivia" and pre-order the album via Pledge Music title. On tour now with Howard Jones.
Sage tells BlackBook: "'Olivia' was inspired by my absolute admiration for the character Olivia Benson on Law & Order SVU. I have been watching the brilliantly talented Mariska Hargitay bring this fiercely intelligent, empathetic and heroic character to life on TV for many years, and various episodes have inspired me to write songs, poems and even paint pictures. I've been equally inspired by Mariska's charity work via her organization Joyful Heart, and there's just something very compelling about the parallels between the strong character she portrays, and the good she is doing in her life for others."
"This is a warm-weather record. These are songs about getting out there, thawing things out, and unearthing the truth."

Rachael Sage, Artist
Sonically, Myopia is a bold departure for Sage, with a much stronger emphasis on her guitar playing over her usual piano palette, with inventive contributions by Hoboken-based guitarist James Mastro (Patti Smith, Ian Hunter) who Sage affectionately calls "the king of wah". Sage and Mastro toured last year with Beth Hart and inevitably some of Hart's grit and soul rubbed off. In an unexpected foray into her roots, "Umru Mayne" finds Sage shout-singing in Yiddish over punk rock guitar and Doors-esque organ. "I've never sung in Yiddish before but this song just really spoke to me and then somehow when we recorded it, I channeled a bit more Patti Smith than Mandy Patinkin..."
Produced by Sage and her longtime engineer John Shyloski, Myopia was recorded last summer at Carriage House Studios in Stamford, CT as well as at Sage's home studio in NYC's East Village, and you can feel the swelter. The heavily electronic "Haunted By Objects" – on which Sage plays Moog synthesizer – describes the psyche of a hoarder whose only potential recourse may be to set everything on fire, while "This Darkness", a bluesy lamentation about the Dakota Pipeline, reflects the urgency and courage of Native Americans' resistance to environmental desecration; the enemy in the dark is indifference, the iciest kind of blindness.
Sage explains: "This is a warm-weather record. These are songs about getting out there, thawing things out, and unearthing the truth. Sometimes you can't do that in the dead of winter. But when the sun is shining, even the murkiest future appears hopeful."
Sage continues her tour opening for Howard Jones with dates still to come in New York City, Boston, Cleveland, Chicago and Detroit. Fans will be treated to special selections from Myopia. Violinist Kelly Halloran (Tom Morello) will be accompanying Sage for all of her performances.
Full tour routing can be found below and via Sage's website.
For more information on Rachael Sage, please contact:
Girlie Action Media
Pam Nashel Leto // pam@girlie.com // 212-989- 2222 x111
Taylor Haughton // taylor@girlie.com // 212-989- 2222 x119
MPress Records
Tiina Teal // press@mpressrecords.com // 212-481- 7243
RACHAEL ON TOUR *with Howard Jones​​
2/26 - Sellersville Theater 1894 - Sellersville, PA *
2/28 - City Winery - Boston, MA *
3/1 - Shalin Liu Performance Center - Rockport, MA *
3/2 - City Winery NYC - New York, NY *
3/3 - City Winery NYC - New York, NY *
3/4 - Hangar Theater - Ithaca, NY *
3/7 - Music Box Supper Club - Cleveland, OH *
3/8 - City Winery Chicago - Chicago, IL *
3/9 - The Tarkington - Carmel, IN *
3/10 - Live! At The Ludlow Garage - Cincinnati, OH *
3/11 - St. Andrew's Hall - Detroit, MI *
3/12 – 3/17 – SXSW - Austin, TX
4/7 – Phoenix Pride - Phoenix, AZ
4/19 – Genghis Cohen - Los Angeles, CA
4/21 – Refugee House Concert - Visalia, CA
4/22 – The Monkey House – Berkeley, CA
4/28 – Concerts @ Indie Air Radio – Spokane, WA
4/30 – Rolling Hills Radio @ Shawbucks – Jamestown, NY
5/2 – Joe's Pub – New York, NY
5/4 – Burlap & Bean – Newtown Square, PA
5/5 – Atomic Tom's – Binghamton, NY​
http://rachaelsage.com/​
https://www.facebook.com/rachaelsagepage
https://twitter.com/rachaelsage
https://instagram.com/rachael_sage
Source: MPress Records
Related Media
Tags
Additional Links