Raab Sales, Inc. Celebrates 60 Years of Outstanding Equipment and Service With a Buy 2, Get 1 Free Online
Press Release
-
updated: Aug 6, 2018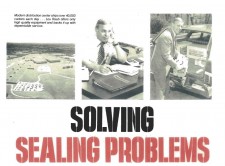 LENEX, Kan., August 6, 2018 (Newswire.com) - 018 – today marks the 60th anniversary of the founding of Raab Sales, Inc., an industrial equipment supplier with clients all across the greater Kansas City area and throughout the Midwest at large.
Raab Sales was originally founded by Lou Raab in 1958. Lou Raab entered the industrial equipment sales industry working for the RM Jackson Company. He sold the company's revolutionary Marsh Electric Tape Dispenser to industrial operations around the Kansas City area.
Soon, Raab had the idea to go into business as an independent distributor. He formed the Raab Sales Company in 1958, with the Marsh Electric Tape Dispenser as his best-selling item. In 1962, Raab had made the RM Jackson Company so many sales that they recognized him as their exclusive distributor in the Kansas City region, naming him a "Factory Authorized" equipment dealer.
Between 1975 and 1979, the Raab Sales Company officially became a family business after hiring Lou Raab's sons Michael, Steve, and Mark.
1991 marked the year that the company grew beyond its office based in the home of Lou Raab. Its headquarters were moved to a combination warehouse and office complex in North Kansas City, MO.
Lou Raab retired in 1997, appointing Mark Raab President of the company with Steve Raab as Vice President, and Tom Raab – the youngest of the brothers – as the Company Secretary.
After just five years, the new management had grown the business to the point where it needed to move again. In 2002, Raab Sales, Inc. moved to its current complex in Lenexa, Kansas.
As the company grew and evolved, Mark Raab came to understand that his company's service model and integration expertise could make him an industry leader. He was a founding member of the Product Identification Network (PIN) in 2005, forming a trade network and establishing standard policies that would allow industrial operations to receive the same level of service nearly anywhere in the world.
Over the years, Raab Sales, Inc. also added new, advanced equipment to its offerings. These  included print and apply labelers, thermal transfer overprinting (TTO) machines, industrial dryers, and advanced vision systems.
No matter how large or advanced Raab's operations have gotten, the company has stayed true to the vision of its founder, Lou Raab.
"Lou had great relationships with all of his clientele," reflects Raab Sales, Inc. current President Mark Raab. "We have letters from clients saying how blown away they were by his dedication." Mark Raab says that one client "even cc'd a letter they had sent telling their current supplier in no uncertain terms that they were unhappy and don't know why they ever left Raab."
Today, the company's pursuit of new technology continues to encourage RAAB Sales to evolve. The latest addition to the Raab Sales, Inc. service model is the company's online QuickShop. The company sells consumables for industrial equipment, including replacement inks, ribbons, labels, and portable batteries.
In celebration of the company's anniversary, QuickShop customers can buy any 2 eligible items and receive a third item free when using the code "B2GO60."
About Raab Sales, Inc.
Raab Sales, Inc. is an industrial equipment distributor in Lenexa, KS. It serves clients in Kansas, Missouri, Iowa, and Nebraska with solutions for industrial packing, printing, marking, coding, and labeling. With attentive service, expert knowledge of industrial systems integration, and factory trained technicians for every brand they carry, Raab Sales, Inc. sets a high standard in customer service.
Source: Raab Sales, Inc
Share:
---
Categories: Packaging
Tags: inkjet, packaging, Raab Sales
---