R-Go Tools Launches Hygienic, Lightweight Safety Screen Partition for the Office
Press Release
•
updated: Jun 25, 2020
Partitions allow employees to return to work more safely in the time of COVID-19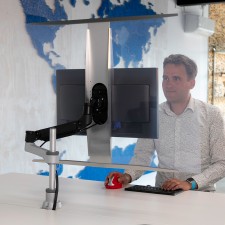 LEERDAM, The Netherlands, June 25, 2020 (Newswire.com) - R-Go Tools, a Netherlands company, is so excited to announce the timely launch of its new product R-Go Hygienic Safety Screen Partition, which is made of recyclable PETG plastic with aluminum frame, for offices. This safety screen is built around the monitor arm, leaving free space on the desk.
As the COVID-19 lockdown is slowly being lifted, the conversation about how to reconfigure the American workplace is taking place throughout the business world, from small startups to giant Wall Street firms. The modern corporate office is renowned for open, collaborative workspaces, in-house coffee bars, and standing desks with room for two giant computer monitors.
All employers need to consider how best to decrease the spread of COVID-19 and lower the impact in their workplace. One of those measures is by using the CDC's recommended pandemic infectious disease mitigation measure of "social distancing".
Influenza is spread by viruses in droplets of moisture, such as coughs, sneezes, etc. The six-foot social distance reduces the opportunity for spreading the viruses.
In offices, partition cubicle walls of sufficient height (40 inches or more) can also be used to prevent the cough-produced spreading of virus-containing droplets. Why 40 inches? This is an average seated floor-to-mouth height. Where employees are seated behind partitions and using all the other recommended precautions, droplet spread will be greatly reduced. If partition cubicle walls are less than 40 inches, another approach to achieve adequate social distancing is to stagger or 'checkerboard' placement of employees at work stations.
R-Go Tools has the perfect lightweight solution that will create this partition, and this screen can easily be cleaned and disinfected on a regular basis. It comes with a self-installation kit and is very easy to install.
R-Go Tools introduces R-Go Hygienic Safety Screen, which will not only help to enforce social distancing guidelines, but it will also create an overall cleaner and safer environment.
R-Go Hygienic Safety Screens are manufactured in the Netherlands and are modularly designed and fit with the R-Go Caparo 4 and Zepher 4 monitor arms. The screen is also compatible with any VESA-compatible monitor arm.
For further information regarding the purchase or distribution of the R-Go Hygienic Screen in the USA, contact r.sonawane@r-go-tools.com.
R-Go Tools designs, produces, and distributes ergonomic products for healthy screen usage. Most of R-Go Tools products are environment friendly and partially or completely recyclable. The company was founded in 2010 and has its origins in ergonomic consultancy R-Go Solutions. R-Go Tools' products are characterized by a unique combination of ergonomics, affordability, durability, and design. R-Go Tools also organizes online, interactive workshops so you can support your customers even better with sound ergonomic advice in the correct purchase of ergonomic furniture, aids, and in the design of the workplace.
Source: R-Go Tools
Related Files
Additional Links