Quttera Enhances Its Anti-Malware Platform With More Security Features to Provide Efficient and Cost-Effective Malware Solutions for Websites
Press Release
•
updated: Oct 31, 2017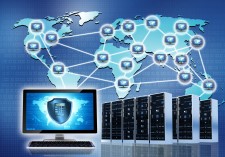 NEW YORK, NY, October 31, 2017 (Newswire.com) - Quttera is happy to announce the upgrade of ThreatSign - Website Anti-Malware platform. This update includes enhanced server-side (FTP/ sFTP) malware monitoring, DNS/IP monitoring, server uptime monitoring as well as improvements to the existing website security features.
ThreatSign - Website Anti-Malware by Quttera is a comprehensive website security platform which is offered both as security as a service (SECaaS) and as an on-premise website anti-malware solution. ThreatSign anti-malware services are running in a distributed cloud environment allowing for scalable bulk scanning and the power to deliver enterprise-level website security to web hosting providers, managed service providers, IT solution providers, and the SMB market. The ThreatSign platform can be deployed on a private or hybrid enterprise cloud to provide a fully-managed environment.
"ThreatSign - Website Anti-Malware is now running all-around website scanning for each asset that is being monitored for malware, including server-side (FTP/ sFTP) malware scanning, external (HTTP/ HTTPs) malware scanning, DNS/ IP monitoring and server uptime monitoring," says Michael Novofastovsky, CTO and co-founder.

Michael Novofastovsky, CTO and co-founder
Quttera's ThreatSign solution enables organizations to secure their website portfolios, quickly remove malware and blacklisting, and establish effective cyber risk management. Quttera's technology uses a combination of threat intelligence gathered from millions of websites and URLs scanned daily all over the world, using patented malware scanning algorithms and proprietary malware removal frameworks. Quttera's customers use the ThreatSign platform for website security and blacklist monitoring, malware removal and hacking remediation support. ThreatSign monitors and protects websites of any size and complexity. Quttera supports sites created on any Content Management System (CMS) and hosted on any web hosting platform.
ThreatSign capabilities include:
• External Monitoring (HTTP/ HTTPS) - Client Side malware scanning
• Internal Monitoring (FTP/ SFTP) - Server Side malware scanning
• Automated scans with professional malware reports including email alerts and history reports
• Uptime monitoring to alert upon down/uptime of website
• DNS/ IP monitoring to track DNS attacks and changes to site IPs
• Malware and blacklisting removal with a click
• 24x7 access to security experts and an incident response team
• Security analytics and metrics from monitored assets
"ThreatSign - Website Anti-Malware is now running all-around website scanning for each asset that is being monitored for malware," said Michael Novofastovsky Quttera CTO and co-founder. "This enhancement is intended to provide comprehensive checkups on website safety, including server-side (FTP/ sFTP) malware scanning, external (HTTP/ HTTPs) malware scanning, DNS/ IP monitoring and server uptime monitoring. As a trusted leader in web security, Quttera's malware experts are analyzing up to date and unknown malware variants daily and remediate hacking attacks all around the world gathering the knowledge required to build state of the art tools to fight malware. We continue to commit to our objective of building all-in-one anti-malware tools that take malware detection and prevention to another level. The next planned release is dedicated to the next generation Web Application Firewall (WAF) that will have beta and production releases during 2018. The ThreatSign platform is constantly improving and being enhanced with new tools and functionality that we develop here at Quttera to offer an essential and cost-effective anti-malware solution for any website out there."
Additional information about Quttera and ThreatSign can be found at https://quttera.com
Media Contact:
Michael Novofastovsky
Phone: +1 (323) 540-5642
Email: contactus@quttera.com
Source: Quttera.ltd
Related Media
Tags
Related Files
Additional Links