Quest Nutrition Teams Up With 3-Time Olympic Gold Medalist Gabby Douglas
To Bring a New Hero This Summer: New Quest Hero Bars
Press Release
-
updated: Jun 29, 2017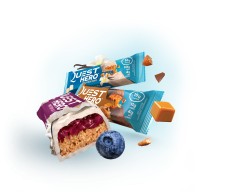 Los Angeles, CA , June 29, 2017 (Newswire.com) - There's a new hero in town this summer to satisfy sweet cravings in a healthier way. Quest Nutrition has launched their new line of Hero protein bars in three delicious flavors: Blueberry Cobbler, Chocolate Caramel Pecan and Vanilla Caramel. Each craveable flavor tastes like a candy bar but has 15g of protein, only 200 calories and only 4g net carbs.
"Nobody wants to give up their favorite foods in the quest to better health. At Quest we've dedicated ourselves to fueling your journey by making craveable foods healthy," said Ashlyn Neff, Director of Marketing at Quest Nutrition. "Gabby knows the dedication required to succeed at the highest levels of sport. It's a combination of physical and mental training with eating the right foods to help you perform. I was so happy to hear that Quest helped her on her journey and she was the perfect choice for this launch."
"As an athlete, Quest has been part of my routine for a long time because they're easy, delicious and healthy," said the record-breaking pro-athlete Gabby Douglas. Adding, "The new Quest Hero bar is a game changer. It tastes like a chocolate coated, caramel filled candy bar but with the nutrition of a protein bar!"
The Quest Hero protein bars come in three delicious flavors:
Blueberry Cobbler: With a white chocolate protein coating, deliciously sweet and gooey blueberry flavored filling and the satisfying chewiness of a Quest Beyond Cereal Bar at its core, the Blueberry Cobbler Hero Bar provides 17 grams of protein, and weighs in at only 4g Net Carbs with only 170 calories.
Chocolate Caramel Pecan: Covered in protein chocolate, pecans, with a gooey caramel filling and a Quest Beyond Cereal Bar core. This bar provides you with 15 grams of protein, only 4g of Net Carbs and only 200 calories.
Vanilla Caramel: A sweet, white chocolate protein coating surrounds real almonds, gooey caramel, and a chewy Quest Beyond Cereal Bar core — the Vanilla Caramel Hero Bar is a flavor that's anything but "vanilla." Fight the candy cravings with 16 grams of protein, only 4g of Net Carbs and only 170 calories.
Quest Hero Bars, the newest addition to Quest's award-winning line of protein bars, is available now at select retailers including GNC, Vitamin Shoppe, Vitamin World, 24 Hour Fitness, Amazon, Wegmans, Hy-Vee, your favorite health nutrition store and at www.questnutrition.com.
About Quest Nutrition:
Quest Nutrition makes clean eating fun. Committed to making delicious, functional foods with no nutritional compromise, Quest delivers the highest quality foods to help active, health-conscious consumers achieve their goals. In January 2017, the independent firm Labdoor ranked Quest as the #1 protein bar for label accuracy proving that what is on the package is what's actually inside a Quest bar. Quest products are available in over 90 countries and the company is headquartered in El Segundo, California. www.questnutrition.com
Contact: PR@questnutrition.com
Source: Quest Nutrition
Share:
---
Categories: Celebrities, Sports, Fitness, and Recreation, Lifestyles, Sports News
Tags: candy bars, clean eating, Gabby Douglas, gold medalist, healthy eating, Olympics, protein bars, Quest Nutrition
---