Quest 2 Recovery Detox and Residential Addiction and Dual Diagnosis Program Opens Outside of Los Angeles
Dedicated to helping clients overcome their struggles with addiction and co-occurring mood disorders.
Press Release
-
updated: Sep 4, 2018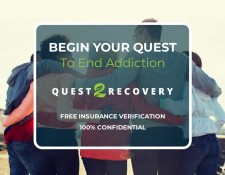 LOS ANGELES, September 4, 2018 (Newswire.com) - Quest 2 Recovery, now open in Lancaster, near Los Angeles, California, offers a fresh new approach for treating individuals struggling with addiction or a dual diagnosis. The home-like environment and compassionate staff provide a family-style vibe that resonates with clients. Situated in the tranquil surroundings of the Antelope Valley away from the noise of the city, therapists at Quest 2 Recovery are sincerely dedicated to helping clients overcome their struggles with addiction and co-occurring mood disorders, while rekindling their hope for a fulfilling life.
Instead of the familiar cookie-cutter approach to addiction treatment that is so common today, Quest 2 Recovery delves into the driving factors that fuel the addictive behaviors, understanding that by examining and processing past emotional pain and trauma real inroads to recovery can result. Treating only the outward diagnosis will not yield the sustained recovery that clients deserve.
As co-founder Gaspar Melikyan puts it, "Life is a journey, not a destination. We determine our destiny by the direction we take." Quest 2 Recovery helps guide clients toward their recovery destination utilizing a combination of evidence-based therapies that are selected specifically for each client's unique treatment needs, making their journey their very own. Great care is taken to ensure that each client is treated with dignity and respect, creating a trusting partnership between client and therapist.
At Quest 2 Recovery detoxification is medically monitored for the highest level of comfort possible, and rehabilitation is holistic, treating all aspects of the client—mind, body, and spirit. Clients are inspired to set new life goals, rediscover purpose, and restore overall health. States Melikyan, "No quest is too long when dreams are big and the sky is the limit." Taking the steps to detox from alcohol and drugs is the first phase of the recovery process.
About Quest 2 Recovery: Quest 2 Recovery is an intimate addiction and dual diagnosis treatment program and drug rehab in Los Angeles. Offering a personalized and intensive approach to treating substance use disorders, the therapists at Quest 2 Recovery deliver sustainable recovery results by partnering with clients in their quest for a new addiction-free life. To aid in healing and recovery, the treatment program is located in a comfortable private and intimate home-like setting.
Gaspar Melikyan
Co-founder and Marketing Director
Quest 2 Recovery
(888) 418-4154
gmelikyan@questdetox.com
Source: Quest 2 Recovery
---
Categories: Addiction, Healthcare
Tags: addiction, alcohol detox, alcoholism, chronic relapse, drug detox, drug rehab, heroin addiction, Los Angeles
---