Quantum Resistant Cryptography (QRC) and OrbitsEdge Make Space Infrastructure Quantum Safe
Press Release
•
Dec 1, 2022
QRC and OrbitsEdge are working together to deliver the quantum-safe in-orbit infrastructure necessary to process and analyze the vast amounts of data being created in space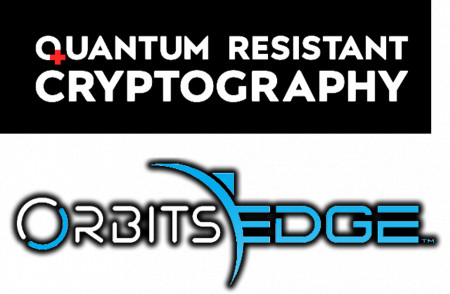 COCOA BEACH, Fla., December 1, 2022 (Newswire.com) - Quantum Resistant Cryptography (QRC) and OrbitsEdge announced today they will be working to make datacenters in space quantum safe. This will substantially increase computing power in orbit and reduce the bottlenecks of analyzing space data on Earth, protected by the safest and most secure quantum-resistant cryptography on the market today.
OrbitsEdge is dedicated to providing the infrastructure required for commercial off-the-shelf (COTS) computer hardware and software to survive the space environment. QRC will protect and secure the data for transmission, enabling quantum-resistant classical electronic payloads in space. The OrbitsEdge SatFrame™, with its cutting-edge radiation shielding and thermal management, has enabled inexpensive data-center-grade computers to survive the space environment. Integrating QRC's quantum-resistant algorithms means SatFrame components can withstand the threat of hacking by quantum computers in addition to the harsh physical environment of space.
"The advanced encryption that QRC provides ties in very well with on-orbit computation and high levels of storage," said Richard Ward, CTO and founder of OrbitsEdge. "OrbitsEdge facilitates analysis above the transport layer and improves the overall quality of the data that is sent down to Earth. QRC Americas secures that data using its safest and most secure quantum-resistant cryptography."
"As leaders like General Paul M. Nakasone have said, the number-one defense against the quantum computing threat is to implement quantum-resistant cryptography on our most important systems," said Stiepan Kovac, CEO of QRC. "OrbitsEdge is revolutionizing space infrastructure by making traditional computer hardware useable in space. We are proud to be working with Orbits Edge to keep their data and communications safe both now and in the post-quantum future with QRC."
Today's method of shipping data back to terrestrial clouds is no longer practical. The OrbitsEdge and Quantum Resistant Cryptography partnership will provide faster and extremely secure web services solutions for earthbound companies to sustainably and cost effectively succeed in space.
About OrbitsEdge, Inc. — OrbitsEdge was established in 2019 to bring high-powered Edge computer to the space environment. We deliver high-performance computing micro datacenters to orbit, with which to process and analyze the vast amounts of data being created in space. Our cornerstone infrastructure solution will substantially increase computing power in space and reduce the bottlenecks of space data on Earth.
About Quantum Resistant Cryptography (QRC) — QRC provides forward-thinking solutions that are energy-efficient, quantum-resistant, 5G/6G+ -compatible and enable future-proof communications, public infrastructure, financial transactions, and private data protection. QRC's unique patented quantum-safe technology in 5G systems is the only solution recommended by the United Nations International Telecom Union (UN ITU-T).
Source: Quantum Resistant Cryptography