Qualer Will Be Adding Additional Features for Their Asset Management Software Solutions
Press Release
•
updated: Feb 1, 2020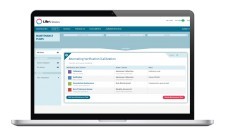 SAN DIEGO, February 1, 2020 (Newswire.com) - Qualer, the world's most powerful calibration management platform, takes its role in providing customer satisfaction above and beyond. After listening to industry voices and customer responses, Qualer added a host of new features to its Calibration and Service Management Platform, Qualer 2.7. These new features include a Work Calendar, a New Dynamic Workflow Engine, Classification Service Support and Smart Report Generation.
Qualer provides companies best-in-class functionality with their Calibration Management Software for the management and performance of calibrations and maintenance. Qualer's Calibration Software Cloud infrastructure enables calibration and documentation to be processed in real-time, increasing efficiencies and productivity while reducing costs.
Qualer is an end-to-end pipette calibration platform to help run and expand a company's business, improve customer experience and reduce turnaround time through more efficient operations.
Through Qualer's Lab Management Software, Asset Compliance capabilities take the guesswork out of asset management, giving a company the tools they need to face and pass an audit with ease. Qualer's Lab Management Software ensures total compliance and audit readiness by managing all of a company's assets on one easy-to-use dashboard.
An organization relies on fast, reliable service from third-party vendors. With Qualer's Maintenance Management Software, a company can define intricate requirements and automate how vendors service-specific assets through Qualer's collaborative ecosystem. Qualer controls access to protect a company program's integrity while eliminating manual processes between a company and its vendors. Vendor service documentation is automatically uploaded to Qualer through a portal once work is completed.
Lastly, Qualer is a Facility Management Software solution with a singular focus: shaping the future of asset health. We've designed a collaborative ecosystem that connects all of the pieces and people needed to manage the life cycle of critical assets together. Qualer empowers all stakeholders to communicate seamlessly under a single platform, creating alignment and making sure the right people are involved at the right time.
Source: Qualer
Tags
Additional Links