Puzzle Your Kids Launches New Free Word Puzzles for Kids
Those who sign up receive a free, high-quality pencil puzzle for kids every week.
Press Release
-
updated: Apr 18, 2017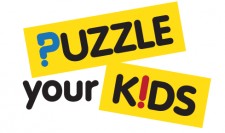 New York, New York, April 18, 2017 (Newswire.com) - Eric Berlin, professional puzzle constructor and author of the "Winston Breen" series of children's books, has just launched Puzzle Your Kids, a new subscription-based service that provides one free puzzle for kids each week. Berlin also offers a $5-per-month subscription, which provides two puzzles a week, special supporter-only contests, and previews of new puzzles. These creative pencil puzzles are perfect for kids age nine and up.
The Puzzle Your Kids word puzzles are at a level of quality of comparable to the New York Times crossword puzzle, but with words and clues that are entirely kid-friendly. The puzzles themselves are much more varied, going far beyond the standard crossword.
Children love puzzles of all kinds. They are fun and educational, teaching kids critical vocabulary, reasoning, and problem solving skills. But there are astonishingly few quality puzzles available for children. Puzzle Your Kids aims to fix that, with puzzles that reinforce the full range of a child's vocabulary as well as teach new words. The vocabulary used in the puzzles covers a wide variety of subjects, from science and sports, to mythology and movies, plus much more.
"Completing these word puzzles offers more than just fun and new vocabulary: They also help to reinforce a child's self-esteem. When a solver finally gets the answer and has that "aha moment", the joy they feel and sense of accomplishment can't be beat," says Berlin. "It's a great confidence booster as well as an engaging learning tool."
Berlin also offers educational presentations, activities, and exciting puzzle hunts at schools and local libraries. For more information, and to sign up to start receiving free puzzles for kids, visit PuzzleYourKids.com.
About Puzzle Your Kids 
Puzzle Your Kids provides expertly crafted pencil puzzles for kids created by Eric Berlin, professional puzzle constructor and the author of the "Winston Breen" series of children's books.
Contact Information
Eric Berlin
ericberlin@gmail.com
Source: Puzzle Your Kids
---
Categories: Gifted and Talented Education (GATE), Education
Tags: education, homeschool, puzzles
---