PureVPN Voices Support for Safer Internet Day 2018
Press Release
-
updated: Feb 5, 2018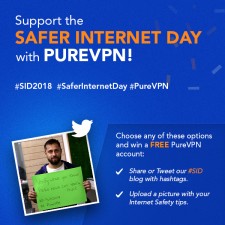 Hong Kong, HK, February 5, 2018 (Newswire.com) - PureVPN, a leading VPN provider dedicated to safeguarding the privacy, security, and freedom of netizens, is all set to celebrate the Safer Internet Day on Monday, February 06, 2018.
The day is coordinated by the UK Safer Internet Centre and hundreds of organizations from around the world play their part in promoting not only a safer but a better Internet for all, especially young adults, teens, and children. The day is also celebrated in hundreds of countries across the six continents with the support of the Safer Internet Day Coordination Team, which collaborates with around 100 global Safer Internet Day Committees.
This year's theme for Safer Internet Day is "Create, connect and share respect: A better Internet starts with you." And PureVPN is spreading the message of safe, positive, and responsible Internet use with a campaign of their own.
How is PureVPN Celebrating Safer Internet Day 2018?
PureVPN will give away 100 monthly subscriptions to 100 internet users for getting involved and supporting the Safer Internet Day by actively participating in various activities such as:
·         Sharing the VPN provider's post on Twitter or Facebook using the hashtags #SID2018 #PureVPN #SaferInternetDay
·         Uploading a picture on Twitter or Facebook highlighting how they stay safe online using the hashtags #SID2018 #PureVPN #SaferInternetDay
·         Tweeting a tip featured in the post.
To mark this Safer Internet Day, PureVPN has also curated 70 Internet safety tips for everyone to follow. The tips include ways to deal with or overcome:
·         Malware
·         Phishing
·         Online Scams
·         Cyberbullying
·         Offensive/Obscene Content
·         Cyberstalking
·         Online Predation
·         Sextortion
·         Identity Theft
·         Wi-Fi Eavesdropping
·         Spamming
·         Ransomware
The company has previously supported similar privacy-centric initiatives. The company received mainstream media attention for its campaign against cyber stalking and cyber stalking, where many victims voluntarily stepped forward and shared their ordeal to raise awareness about the often-unnoticed issue.
Source: PureVPN
---
Categories: Security, Safety, Internet and e-Commerce, Internet
Tags: Internet Safety, Internet Security, Online Safety, Safer Internet, Safer Internet Day
---