PureVPN strengthens online security as a member of i2Coalition's VPN Trust Initiative
Press Release
•
Sep 4, 2023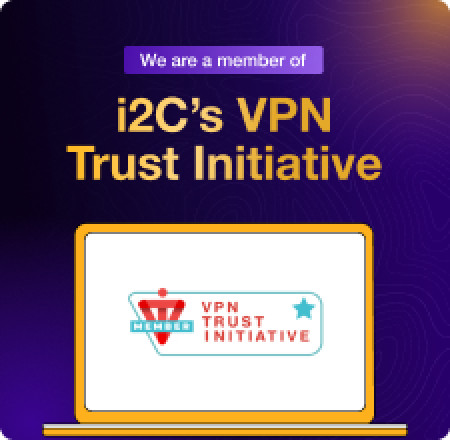 ROAD TOWN, Virgin Islands (British), September 4, 2023 (Newswire.com) - PureVPN, a prominent provider of VPN services under the umbrella of PureSquare, has demonstrated its commitment to users by renewing its membership with the i2Coalition's VPN Trust Initiative (VTI). This action holds significant meaning as it showcases our dedication to users worldwide.
In today's ever-changing digital landscape, cyber threats, data breaches, and unauthorized surveillance have become increasingly prevalent. Unfortunately, many corporations disregard user security and privacy, leaving internet users with no choice but to navigate and adapt to invasive policies.
By actively participating in this initiative, PureVPN has highlighted its dedication to strengthening online security and fostering digital trust. This not only showcases our commitment to safeguarding user privacy but also underscores our role as an organization that genuinely prioritizes confidentiality.
So, what exactly are the i2Coalition and the VPN Trust Initiative?
The i2Coalition was established during a period when US legislators were considering bills (SOPA and PIPA) that could have had negative implications for the online world. Their main objective is to ensure that those who construct the infrastructure of the Internet have a say in shaping public policy.
They accomplish this by:
1. Ensuring an equal and accessible internet for all.
2. Assisting lawmakers and legislators in understanding how internet infrastructure functions.
3. Advocating for reasonable policies that contribute to the growth of the internet, rather than its decline.
4. Ensuring fair treatment of laws related to the internet.
The VPN Trust Initiative is an initiative by the i2Coalition aimed at raising the standards of the VPN industry. It brings together trusted VPN leaders, leveraging their combined knowledge to establish policies focused on "building understanding, strengthening trust, and mitigating risk for VPN users."
What does PureVPN's involvement mean for VPN users?
PureVPN's inclusion in the i2Coalition's VPN Trust Initiative has significant implications for its users worldwide. Here is what it means:
1. Trust and collaboration: The company's alignment with the VPN Trust Initiative's objective reflects its commitment to transparency. This shared focus fosters trust between the online users and the VPN service.
2. Global excellence: With its expertise in data security and involvement in the VPN Trust Initiative, PureVPN enhances VPN practices globally.
3. Unified security: PureVPN collaborates with other leading VPN providers in the initiative, working together to secure the future of online privacy. This collective effort prioritizes user's interests in policy and industry advancements.

About PureSquare:
PureSquare is a holistic cybersecurity platform that prioritizes Youser safety and privacy,
We are dedicated to empowering people with digital security and online privacy, creating a safer world with peace of mind and a sense of security for all. By leveraging 16 years of expertise in the industry, PureSquare continues to achieve excellence through its subsidiary brands - PureVPN, PureKeep, PurePrivacy, PureEncrypt, PureDome, and PureWL.
Source: PureSquare