Pure Radiance Introduces Magestic a New Neck Lifting and Tightening Product
Magestic is the first anti-aging neck lifting and firming cream uniquely formulated to support telomeres, the body's aging off switch.
Press Release
-
updated: Feb 7, 2017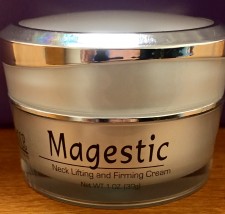 Palm Beach, FL, February 7, 2017 (Newswire.com) - ​​​​Pure Radiance, a beauty and anti-aging product line, has recently launched their new product Magestic. Magestic is packed full of powerful natural ingredients that work to lift sagging and wobbly skin by up to 56 percent in three weeks. The product protects the cells responsible for healthy collagen production known as dermal fibroblasts and simulates collagen production and synthesis. As a result, the company notes that there is a 55 percent improvement in skin elasticity and firmness in eight weeks and skin hydration is improved 96 percent.
As a person ages, the connective skin tissue, which provides the structural support to keep skin looking firm and supple, suffers the most damage from the natural aging process and from environmental factors like overexposure to UV rays. As this connective tissue breaks down, collagen becomes fragmented and skin loses strength and flexibility and starts to sag, wrinkle and thin out. Dermal fibroblasts control the structural integrity of skin and the production of collagen and other proteins the body needs to maintain skin. By supporting the dermal fibroblasts, the structural support of skin can be improved leaving skin in a more youthful state. 
"I've developed this revolutionary new formula that specifically targets the collagen-building cells responsible for producing healthy collagen in the first place," says Dr. Al Sears MD, CEO of Pure Radiance and creator of Magestic. "The formula used in Magestic strengthens, protects and repairs these critical cells, allowing them to produce healthy collagen for much longer, giving customers smoother, younger skin."
The main ingredient in Magestic is the edelweiss flower, which grows in brutal mountainous environments from the Alps to the Himalayas and was built for survival. This potent flower protects against oxidative stress from air pollution and UV radiation. It also recreates skin tension, tightens neck skin, and smooths out wrinkles. In studies, this ingredient protected dermal fibroblasts against degradation, helped stave off and prevent collagen fragmentation, and fought off free radical damage.
The Magestic formula also includes vitamin C, which shuts down the enzymes that cause collagen to deteriorate, and Gotu Kola, another mighty plant with active compounds that back up vitamin C. This plant's power compounds aid in fibroblast production and improve the strength of newly formed skin. Combined these two wrinkle-defying champions have shown to significantly improve skin firmness, elasticity and hydration.
A one-month supply of Magestic is $67.50 per jar with a 100 percent money back guarantee if the customer is not satisfied. To learn more and order the product, visit MyPureRadiance.com.
About Pure Radiance
Pure Radiance products are a doctor-formulated blend of the world's most powerful natural nutrients that nourish and repair skin, allowing it to renew and rejuvenate itself. There are no parabens, carcinogens, pollutants, or gasoline distillates of any kind in Pure Radiance products. For more information, visit MyPureRadiance.com.
Source: Pure Radiance
---
Categories: Beauty and Personal Care, Beauty and Cosmetic Products
Tags: Better Than Collagen, Neck lifting without surgery, Neck-Lifting Cream, Neck-Lifting Report, Reverse the turkey neck
---