Punchflix Seeks to Raise $20 Million in IPO
PunchFlix seeks to raise $20 million in initial public offering with four million shares of stock at $5 per share.
Press Release
-
updated: Feb 5, 2019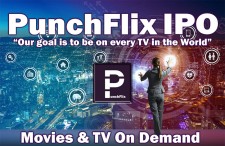 SANTA FE SPRINGS, Calif., February 5, 2019 (Newswire.com) - One of the world's top digital streaming companies, PunchFlix has filed for a public offering of four million shares of stock at $5 per share with the aim of raising $20 million. PunchFlix Inc. has filed under Regulation A of the JOBS Act. Punchflix has grown to become a global digital movie and television streaming platform. After expanding its content by adding more than 2,000 titles to its growing streaming service, PunchFlix seeks to go even further by testing the Wall Street business model with its IPO.
In this public offering, investors can become shareholders and part-owners of the company. As a company on the cutting-edge of multi-media, streaming technology and advancements in digital broadcasting with the aim of becoming a global empire, PunchFlix investors can rest assured that the company will seek to deliver a high-value stock over time on every dime of their investment.
For investors, any amount can be invested, but it is recommended that a minimum of 50 shares be purchased. However, PunchFlix advises all investors to purchase at least 500 shares as the company may decide to return investments if less than 50 shares are purchased. PunchFlix seeks innovative, forward-thinking investors to help achieve their goal of two million subscribers.
For every investment made by investors in this IPO, PunchFlix will use the funds raised to execute the company's business model which includes:
1. The acquisition of new content for PunchFlix.com
2. The development of the distribution of content utilizing the blockchain
3. Advertising to increase subscriber base
4. Building a team that will create a sustainable growth model for PunchFlix
PunchFlix recommends trying its service with the free trial.
About PunchFlix: PunchFlix Inc. always seeks to provide customers with the best digital movies and television experience. That is why PunchFlix is currently the talk of the marketplace. The global launch of the PunchFlix digital streaming movie and television platform is firing viewers up and this is an exciting moment at PunchFlix Inc. The streaming service company believes that it is addressing the need to implement programming for global appeal. Starting with hundreds of movie titles and more live television streams, PunchFlix showcases top-notch programming for consumers to enjoy. PunchFlix Inc. is eager to put the "Punch" into how television is viewed around the world. With television available for viewing anytime and anywhere, the appeal of PunchFlix will change how consumers choose to enjoy their television experience.
Find out more about PunchFlix at http://punchflix.com and to purchase shares or check the IPO FAQs for more information, visit https://corporate.punchflix.com.
Source: PunchFlix Inc.
Share:
---
Categories: Emerging Businesses
Tags: how to invest in an ipo, ipo, punch tv, punch tv ipo, punchflix, punchflix.com
---