Pulsiam Presents Utilizing Unmanned Aircraft in Public Safety at EENA
Press Release
•
updated: Apr 23, 2019
Pulsiam participates in EENA panel and discusses the use cases where utilizing drones can improve operations within emergency control rooms and emergency responses.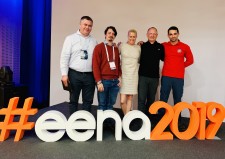 DUBROVNIK, Croatia, April 23, 2019 (Newswire.com) - ​​This month, Pulsiam attended EENA 2019 in Dubrovnik, Croatia and participated in a panel titled "Unmanned Aircrafts: Going Beyond." Holly Blanks, Director of International Business Development and Marketing at Pulsiam, presented on how public safety communications centers can use autonomous drones now and how they can use drones in the future.
SafetyNet CAD directly interfaces with both surveillance cameras and drone software, allowing SafetyNet CAD to act as the brains of the operation, bringing together siloed technologies to maximize their value for public safety. Surveillance cameras can initiate new incidents in SafetyNet CAD, which, in turn, can automatically trigger the dispatch of a drone to the incident location. Video footage is then streamed back to the command and control center, providing unparalleled situational awareness.
"Autonomous drones are already within reach for public safety. Command and control centers could have the ability to have eyes in the sky—to actually understand what's happening before a single officer arrives on-scene," Blanks explained. "Smaller agencies with fewer resources can utilize this technology to automate their operations, so they can use their units where they are most needed."
There are obstacles to implementing autonomous drones for most public safety agencies, as laws lag behind the new technology. "We discussed these obstacles and the importance of making the benefits of this technology clear to lawmakers," explained Blanks. "Autonomous drones have the potential to hugely impact public safety operations, and as we work together to implement autonomous drones, we will discover new ways we can use this technology."
As Dave Keating explained in the Forbes article, "Forget the Ambulance - In the Future a Drone May Take You to the Hospital," "The increased use of drones, for private, commercial and emergency purposes, poses a problem for airspace managers who until now have only had to deal with a limited number of aircraft. A new system of Unmanned Aircraft Traffic Management needs to be developed."
"Because there's more money in the commercial side that's going to drive interest, it's important that public safety authorities get involved early so that the regulations aren't just being shaped by the commercial interests," Blanks explained in the article.
About Pulsiam
Pulsiam established itself as a leader in the public safety software industry in 1986. The company prides itself on meeting the needs of public safety agencies with its SafetyNet Suite. Pulsiam is committed to tailoring its SafetyNet product line to adapt to the changing technology of this mission-critical industry.
Learn more at www.pulsiam.com or contact:
Holly Blanks
hblanks@pulsiam.com
+1 (310) 691-8126
Source: Pulsiam