Pulsar360 Inc. Named to 2018 CRN Fast Growth 150 List
Press Release
•
updated: Aug 6, 2018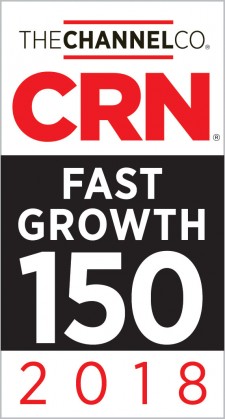 LITTLETON, Colo., August 6, 2018 (Newswire.com) - Pulsar360 Inc., announced that CRN®, a brand of The Channel Company, has named Pulsar360 Inc. to its 2018 Fast Growth 150 list. The list is CRN's annual ranking of North America-based technology integrators, solution providers and IT consultants that have experienced significant economic growth over the past two years. The 2018 list is based on an increase of gross revenue between 2015 and 2017. The companies recognized this year represent a remarkable combined total revenue of more than $50 billion.
"We are extremely pleased to be honored this year by The Channel Company and to be ranked No. 20 out of 150 companies on the 2018 CRN Fast Growth 150 list. As an organization, we are constantly focused on providing the very best service and support. A big part of our success can be attributed to two things: the first is from the phenomenal growth of our channel partners; and the second is from our call center customers where we have over 160 call center customers. Those two areas of our business and customer satisfaction have been mission-critical to our unprecedented revenue growth year over year. One testament to our customer and partner satisfaction is that an outside industry consultancy reported that Pulsar360 has the lowest attrition rate in the industry. At the end of the day, quality and a commitment to excellence are what keep the customers and partners happy," said Bob Harrison, chief channel officer.
"CRN's 2018 Fast Growth 150 list features companies that are growing in an ever-changing, challenging market," said Bob Skelley, CEO of The Channel Company. "As traditional solution providers are moving towards a services-focused business model, this extraordinary group have been able to successfully adapt; outperforming competitors and proving themselves as channel leaders. We are pleased to recognize these organizations and look forward to their continued success."
The complete 2018 Fast Growth 150 list is featured in the August issue of CRN and can be viewed online at www.crn.com/fastgrowth150.
Follow The Channel Company: Twitter, LinkedIn and Facebook
About Pulsar360 Inc.
Pulsar360 Inc. is a leading North American-based telecommunications provider with a comprehensive set of offerings including Unified Communication as a Service (UCaaS), premise-based IP PBX, SIP trunking, business continuity disaster recovery solutions and carrier services. With origins dating back to 2001, Pulsar360 Inc. is one of the oldest VoIP service companies in the United States and Canada and an early proponent of cloud technology in the communications industry. Pulsar360 Inc. recently announced that they have been recognized as the 30 Fabulous Companies of the Year 2018, Product of the Year 2018, as one of the top 10 Unified Communications Solutions providers in the U.S and has received the Product of the Year Award for 2017 and the Hosted VoIP Award of Excellence in 2016.
Pulsar360 Inc. Contact:
Bob Harrison
Chief Channel Officer
480-800-4765
bharrison@pulsar360.com
About the Channel Company
The Channel Company enables breakthrough IT channel performance with our dominant media, engaging events, expert consulting and education, and innovative marketing services and platforms. As the channel catalyst, we connect and empower technology suppliers, solution providers and end users. Backed by more than 30 years of unequaled channel experience, we draw from our deep knowledge to envision innovative new solutions for ever-evolving challenges in the technology marketplace. www.thechannelco.com
Jennifer Hogan
The Channel Company
(508) 416-1189
jhogan@thechannelco.com
Source: Pulsar360 Inc.
Related Media