Publishthis.email Knocks Down the Barriers to Online Publishing for 3 Billion Internet Users
Publishthis.email enables 3 billion email users to publish online, despite their technical ability or access to technology
Press Release
-
updated: Jul 19, 2017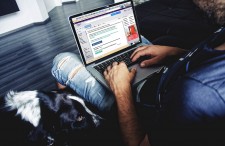 MELBOURNE, Australia, July 19, 2017 (Newswire.com) - The world wide web was invented 26 years ago and email is almost 50 years old, but the process of publishing even a simple web page is still more complicated than you might expect it to be in 2017.
Publishthis.email enables internet users to create simple web pages in seconds by simply sending an email. The service converts the contents of any email sent to the address page@publishthis.email into a simple web page and replies seconds later with a link to the page published online with a unique address on the Publishthis.email website.
Users can take advantage of most of the basic formatting features supported by email clients like Gmail, Outlook, and Apple's Mail app, including fonts, colors, lists, hyperlinks and images, as well as embedding YouTube videos on pages created with the service.
Publishthis.email founder Nick Drewe said his goal was to create the simplest possible way for someone to create a web page. "Sharing content online should be easy. Users shouldn't have to worry about web hosting, learning HTML, or even registering an account with a website building service just to create a web page."
Users can also start blogs or create lists of pages created with the service by emailing page+colletion_name@publishthis.email, and replacing "collection_name" with the title of their collection or list.
"The idea behind Publishthis.email is to tear down the technical barriers to publishing content online for the next 3 billion internet users," Drewe said.
Drewe says that the number of different ways that people are using the service have completely blown him away. "Almost everyone who uses the service is publishing in a different way. We've got users blogging, creating event pages, publishing email threads, and sharing education resources, and that's not even the start of it."
"The most exciting use cases are when it is clear that someone is publishing online for the first time, creating a web page for their business or sharing content when they wouldn't have had the technical ability or know-how to before," said Drewe.
Users in over 100 countries have published pages on Publishthis.email and the service currently supports English, Chinese (traditional and simplified), Spanish, Russian and Arabic languages.
Media contact:
Nick Drewe
Founder, Publishthis.email
Email: nick.drewe@gmail.com
Web: http://www.publishthis.email
​Phone: +61 490 510 854
​Address: 6/63 Elizabeth St, Richmond VIC 3121, Australia
Source: Publishthis.email
Share:
---
Categories: Web Services, Information Technology, Media and News
Tags: blogging, blogs, email, online services, publishing, social media, web hosting, web publishing, wordpress
---