PTSD Service Dog to Assist Former Police Officer and Army Veteran in Swanton, Vermont
Jason, a former police officer and veteran of the U.S. Army from Swanton, Vermont, received a custom trained PTSD Service Dog to assist him from Service Dogs by Warren Retrievers.
Press Release
-
updated: Nov 10, 2017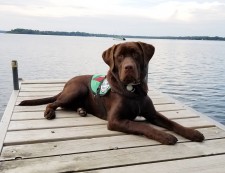 SWANTON, Vt., November 10, 2017 (Newswire.com) - Jason, a former police officer and veteran of the United States Army from Swanton, Vermont, received a very special delivery of a custom trained PTSD Service Dog. Jason's service dog, Lucas, was delivered to him from Service Dogs by Warren Retrievers to help him better cope with the constant fears and concerns of living with PTSD. Based in Madison, Virginia, Service Dogs by Warren Retrievers, or "SDWR," has a mission to provide specially-bred and trained dogs for people with invisible disabilities like Diabetes, Autism, Seizure Disorders, or in the case of Jason — Post-Traumatic Stress Disorder or "PTSD." SDWR has nearly 600 service dogs working across the United States and around the globe. SDWR is currently serving nearly 1,000 families.
Lucas, a Labrador Retriever PTSD Service Dog, recently graduated from SDWR's Service Dog in Training Raiser Program. This specialized program is where hard-working volunteers raise puppies in training for over the course of approximately one year. Both the dogs and raisers must accomplish the foundation and skillset training provided through SDWR trainers at their facility in Virginia.
This training program is what sets SDWR apart from other non-profit service dog organizations. SDWR trainers will continue to return for training sessions with Jason and Lucas every 3-4 months over the course of the next 18 months. During this time they will continue working on Lucas's customized training, follow-up training and training the human to make a successful team and public access certification. SDWR trainers work directly with each individual to provide service dogs that fit their unique diagnosis.
Lucas is also an honored graduate of the SDWR Fallen Officer Puppy Program. The Fallen Officer Puppy Program, or "FOPP," is an initiative by SDWR to pay respect to the legacy of service by fallen American police who have sacrificed their lives in the line of duty. Lucas is named in honor of fallen Sergeant Rod Lucas of Fresno County Sheriff's Office, California, who fell victim to an accidental gunfire incident in 2016. Lucas's work as a PTSD Service Dog with Jason will carry on in memory of Sergeant Rod Lucas's life of service before self.
Jason was diagnosed with PTSD in 2011 after suffering a traumatic brain injury and then again diagnosed with severe PTSD in 2013 after another violent incident. Because of his PTSD, Jason lives in constant fear of attack by someone or something, which results in hypervigilance. Jason says, "I also have nightmares that are very vivid and seemingly real where I am being attacked and fighting for my life. I am hopeful and optimistic that my service dog will essentially be like a blanket for me."
By accompanying and supporting Jason on a daily basis, Lucas will assist in reducing the traumatic effects Jason encounters every day living with this invisible disability. Since Lucas is a service dog and covered under laws in accordance with the Americans with Disabilities Act, he will be able to accompany Jason everywhere — from his favorite outdoor activities like hiking and fly fishing to Jason's place of employment.
Service Dogs by Warren Retrievers is a nonprofit organization based in Madison, Virginia, and relies on donations to help the Organization in its mission, "Until there's a cure…there's a dog." To make a donation or learn more about SDWR, please visit the website, http://www.sdwr.org. To learn more about PTSD Service Dogs go to http://www.sdwr.org/service-dogs/ptsd.
Source: Service Dogs by Warren Retrievers
Share:
---
Categories: Non Profit, General Interest, Special Needs and Disabilities
Tags: Dogs for PTSD, dogs trained for PTSD, PTSD service dog, PTSD service dog for veterans, PTSD service dog for vets, Service dogs for PTSD
---