Psychiatry Drugs Children for Profit, Protestors Say
Press Release
•
updated: Jul 26, 2017
A UK human rights group is incensed over psychiatrists labeling normal childhood behavior as psychiatric disorders.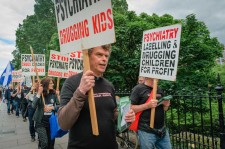 Edinburgh, Scotland, July 26, 2017 (Newswire.com) - Citizens Commission on Human Rights UK (CCHR UK) protested the Royal College of Psychiatry Annual Convention in Edinburgh carrying signs reading, "Stop Psychiatry Drugging Kids" and "Childhood is NOT a Mental Disorder."
The group marched from Scott Monument to Edinburgh International Conference Centre where the convention was taking place, demanding immediate reform.
The number of children in Scotland given drugs to treat ADHD has soared by 39 percent to a record high in just six years. And the cost of these drugs has increased to £4.5 million per year. But according to Dr. Sami Timimi, British psychiatrist and consultant in child and adolescent psychiatry at Lincolnshire Partnership NHS Foundation Trust, "This might come as a shock, but, quite simply, there is no such thing as an ADHD diagnosis. When you look for the research behind this affliction, you find that the cupboard is bare."
The protesters assert psychiatrists are putting children at risk on what they say are dangerous and highly addictive drugs.
Echoing their concerns, in June, United Nations Special Rapporteur on the right to health, Dr. Dainius Pūras, called for "a revolution in mental health care around the world." After presenting his latest report to the U.N. Human Rights Council in Geneva, he stated, "There is now unequivocal evidence of the failures of a system that relies too heavily on the biomedical model of mental health services, including the front-line and excessive use of psychotropic medicines, and yet these models persist."
Citizens Commission on Human Rights was established in 1969 by the Church of Scientology and Dr. Thomas Szasz, Professor of Psychiatry and Lifetime Fellow of the APA. CCHR is a mental health industry watchdog that has obtained over 182 laws that protect individuals against psychiatric abuse.
Source: ScientologyNews.org
Related Media