Prudential Overall Supply Achieves Ranking on Selling Power's Annual '50 Best Companies to Sell For' List in 2022
Press Release
•
Jul 20, 2022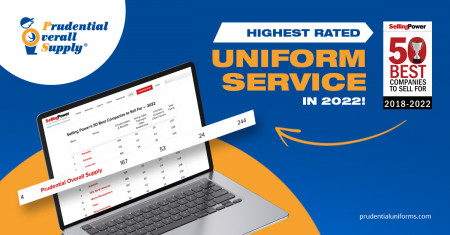 IRVINE, Calif., July 20, 2022 (Newswire.com) - Prudential Overall Supply, a leading company in the reusable textile industry, announced that it has ranked #4 on the Selling Power 50 Best Companies to Sell For 2022 List. This is the fifth consecutive year that Prudential has been recognized on this list. This is the 22nd consecutive year the ranking has been published by Selling Power.
Selling Power magazine founder and CEO Gerhard Gschwandtner says, "As companies are facing economic headwinds, sales organizations are sharpening their focus on sales talent. The Best Companies to Sell For have mastered the alignment of people, processes, and technologies and created a sales organization that excels in hiring, onboarding, training, and compensation of their sales representatives. What attracts salespeople to work for these leading organizations is their great culture, their commitment to diversity, and their steady support of the sales team by servant leadership that focuses on creating customer value and a meaningful work environment that offers unlimited opportunities to win. These companies aim at a higher level of professionalism and trust, which in turn leads to increased sales and a lower turnover of the sales force."
Selling Power's research team created a thorough application where it gathered data across four key areas:
Company Overview
Compensation and Benefits
Hiring, Sales Training & Sales Enablement
Diversity and Inclusion
Companies were ranked in each of the categories above to determine the final list. The methodology is the product of years of research, and Selling Power continues to revise and refine the approach each year. The companies included are a mix of sizes ranging from medium to enterprise.
The full ranking of Selling Power's 50 Best Companies to Sell For in 2022 can be viewed here: https://www.sellingpower.com/lists/2022/50-best-companies-to-sell-for.
About Prudential Overall Supply
Family owned and operated since 1932, Prudential Overall Supply is dedicated to enhancing our customers' image at the best dollar value. By providing premium-quality work wear and safety uniforms, career apparel and casual wear, Prudential can outfit entire organizations. This certified Clean Green, on-time, weekly service also addresses facility image and safety requirements by offering floor mats, wiping towels and facility products throughout the United States. Learn more about Prudential Overall Supply by visiting https://www.prudentialuniforms.com/.
Source: Prudential Overall Supply