Proximo Spirits and Maestro Dobel Tequila Lands Hole in One at an Exclusive New Retail Experience With International Shoppes at New York's JFK Terminal 1
Press Release
•
Jul 7, 2023
Introducing Travelers to the Worlds of Professional Golf and Luxury Tequila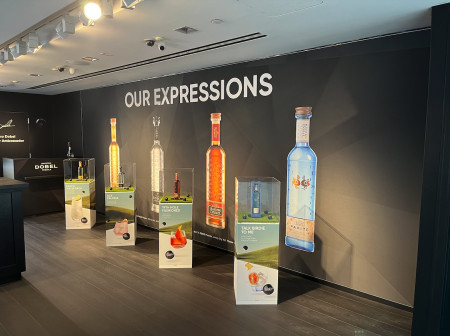 JERSEY CITY, N.J., July 7, 2023 (Newswire.com) - Proximo Spirits reveals 'Smoothness Mastered', a new and exclusive three-month 'store-in-store' experience launched in John F Kennedy International Airport, for luxury tequila brand Maestro Dobel® Tequila.
The immersive store is open for a limited time only, giving travelers the chance to delve into the world of luxury tequila and discover more about Maestro Dobel®, creator of the world's first Cristalino and the 'Official Tequila of the PGA TOUR and PGA TOUR Champions'. The impressive retail space was developed in partnership with International Shoppes and is in a prime location within Terminal 1. The 'store in store' represents one of the first activations within the multi-year partnership between Maestro Dobel® and global golf superstar Jon Rahm, whose presence will be thematic within the experience.
Once in-store, customers are immersed into a luxury experience for tequila and golf lovers alike, where they can pose on a putting green, journey through the partnership with Jon Rahm, and try the exquisite mastery of Maestro Dobel®. High-end spirit drinkers are offered a custom-made shopping experience, getting bottles personalized via an on-site engraving across the featured range of Maestro Dobel®.
Head of Global Travel Retail for Proximo Spirits Roy Summers remarked: "We are delighted to bring this innovative retail experience to life, that sees our world-class tequila from Maestro Dobel® on display in the equally revered location of John F. Kennedy International Airport. Not only is it the first of many activations that celebrate Maestro Dobel's relationship with PGA TOUR Golf, it's also the very first Maestro Dobel® Tequila dedicated pop-up. As the growth of luxury tequila in travel retail continues to go from strength to strength, we're delighted to share this experience with JFK T1's international travellers."
More than 1 million passengers are expected to pass through John F Kennedy International Airport in June, July and August 2023, with the activation set to impact inbound passengers traveling onwards to PGA TOUR events such as the upcoming FedExCup Playoffs in Memphis, Chicago and Atlanta, as players compete for the FedExCup, the PGA TOUR's Ultimate Prize.
Commenting on the activation, Scott Halpern, Co-CEO of International Shoppes, said, "We are excited to announce this partnership with Proximo Spirits, a world-class premium spirits company. It is a collaboration that allows us to expand our premium tequila offerings and introduce an innovative range of Maestro Dobel tequilas to our world-class travelers. This activation promises to be unique, engaging and an immersive opportunity that is designed to provide a thoughtfully curated sensorial experience. We are appreciative that Proximo chose International Shoppes to bring this exceptional luxury experience to life at JFK's T1, as it embodies our commitment to providing the finest selection of spirits and delivering one-of-a-kind retail-tainment."
Maestro Dobel, founded by Juan Dobel and born from 11 generations of tequila-making legacy, is a modern expression of tequila, pushing the global category forward and producing some of the world's finest and smoothest tequilas. Handcrafted in the lowlands of Jalisco, Maestro Dobel is one of Mexico's fastest-growing ultra-premium tequilas at over 40% in both volume and value year on year1, with a collection including Dobel Diamante Cristalino, Silver, Reposado and Añejo tequilas as well as luxury expressions such as Dobel 50 Cristalino.
"Smoothness Mastered" is in residence until the end of August and will bring this vast collection of tequilas to JFK, with prices ranging up to $165 a bottle.
Source: Proximo Spirits