Protest at White House Exposes Human Rights Scandal in South Korea
200 protesters gather at White House after death of young woman to join international outcry against religious discrimination and to petition for ban of coercive conversion programs
Press Release
-
updated: Feb 28, 2018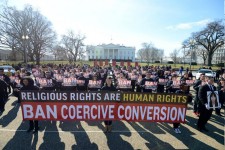 WASHINGTON, February 28, 2018 (Newswire.com) - North Korea has offered to speak with the United States, and there may be future peace talks between the two Koreas. However, the South Korean government has ignored a recent violation of human rights within its own borders. The Association for Victims of Coercive Conversion Programs (AVCCP) is spreading awareness to international religious rights groups, and protests have broken out across the globe to Washington D.C. and the White House.
Ms. Ji-in Gu, a 25-year-old peace activist, was reported missing after a dispute with her family regarding freedom of religion. She was later found in an unresponsive state at a vacation rental in Hwasun, where a religious conversion was taking place — allegedly forced upon her. The local police department confirmed an investigation is underway, questioning the woman's parents about their involvement in her alleged kidnapping, confinement, and eventual death on January 9.
The South Korean government has not officially responded, dismissing these cases as private family matters. According to the Human Rights Association for Forced Conversion (HRAFC), a Korean NGO, there are reportedly more than 1,000 cases of "coercive conversion programs" in South Korea. The AVCCP has reached out to international human rights groups to spread awareness.
This scandal and the call for its exposure have spread to the United States and in particular, Washington D.C. This month, 200 protesters gathered at the White House to join the outcry, calling for a global ban on coercive conversion.
"Religion is supposed to be about love, and yet a woman was betrayed by those closest to her, and she had no protection," said Katie Burke, AVCCP volunteer in D.C. "My heart hurts a lot right now, but we need to do something about this, to make South Korea pay attention, and so the whole world will see the need to ban religious discrimination."
Local religious leaders, such as Sant Singh of the Sikh Sabha temple of Virginia, weighed in:
"No matter what name they give to their coercive actions, or whatever justification they give for these acts, they are committing crimes against humanity and the general public should be made aware of it and stand against these acts strongly."
Cheon-Ji News reports that protests began when over 120,000 citizens gathered in Seoul on January 28. A petition is now being filed for a legal framework to criminalize such violence, and to protect religious freedom, as guaranteed under Article 20 of the Constitution of South Korea.
As Mr. Singh continued, "It is the responsibility of every country to protect their people from the coercive actions and ensure the religious freedom of all. The people of all faiths should come together to end the coercive practices."
Source: Association for Victims of Coercive Conversion Programs
Share:
---
Categories: Civil Rights, Religion, International News, Government
Tags: human rights, murder, north korea, protest, religious discrimination, south korea
---