Propane Ninja is Offering an Upgrade From the Standard Steel Barbecue Tank to Premium Fiberglass at No Upgrade Charge
The fiberglass tank is highly transparent so customers can see the gas level, easing grilling anxiety.
Press Release
-
updated: Mar 14, 2018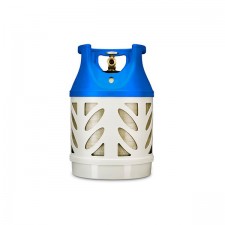 MIAMI, March 14, 2018 (Newswire.com) - ​Propane Ninja is offering a premium barbecue propane tank for the home grilling market at Sedano's Supermarket at a discounted rate. The discount applies when customers upgrade in the store, exchanging a steel tank for a fiberglass one. There is no up-grade charge for the premium version. The discount is limited and expires on June 1, 2018.
"The fiberglass propane tank is the next generation in propane," says Peter Samuelson, co-founder of Propane Ninja. "Our fiberglass tank is highly transparent, so customers can see the gas level, which eases grilling anxiety and ensures customers are not running out of propane right when they need it most. They know they have enough propane to get through the next meal.
Entrepreneurs and friends Mike Dodd and Peter Samuelson launched the company in 2013, after overhearing a conversation at a restaurant between the manager and a customer who wanted an outdoor heater turned on. The heater had run out of propane. The two realized how inconvenient it was for restaurant staff to refill the propane and an idea was launched. Since then, the company has grown consistently and has added new services to meet growing demand.
In June 2017, Propane Ninja also launched in Miami, Florida. Co-owners and brothers, Ofelio and Victor Martinez, are the heart and soul of Propane Ninja Miami. Both of Cuban descent, raised in Miami, they have 20 years of combined propane experience.
"Propane Ninja gives the consumer a better option. Not only do we provide high-quality propane Service, but now we can deliver on that promise with a fiberglass tank," says Ofelio Martinez.
The company uses leading industry technology coupled with logistics to pave the way for better service, more product offerings, and a much higher degree of safety. From forklift cylinder fuel delivery and barbeque exchange to hospitality heating, Propane Ninja offers a customized product that suits the specific needs of each industry.
Propane Ninja's customers have great things to say about the quality of service offered. Anthony Cucci writes, "Thank you Mike Dodd and Propane Ninja. You have kept our guests warm and comfortable during this cold season. Best product and customer service. Would recommend to anyone who is looking for propane or heating needs."
To learn more about the company and see all the services offered, visit PropaneNinja.com.
About Propane Ninja
Propane Ninja simplifies deliveries and amplifies propane sales for its clients. The company utilizes available technology from other industries to implement the best strategy for customer cohesion, leading to great satisfaction and longer business relationships with success in propane delivery. For more information, visit PropaneNinja.com.
Source: Propane Ninja
Share:
---
Categories: Outdoor Grills and Barbeques, Kitchen
Tags: best propane, Fiberglass, Get a better tank today, Grilling just got better, meat market, Propane exchange, propano, Sedanos, supermarket
---