Prominent Beverly Hills Real Estate Investment Expert Wows Major Family Office Symposium
Real estate luminary Alexander Radosevic shares podium with ABC TV Shark Tank star Daymond John and renowned pollster Frank Luntz.
Press Release
-
updated: Mar 6, 2018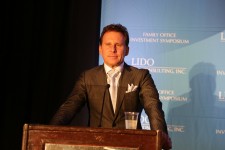 SANTA MONICA, Calif., March 6, 2018 (Newswire.com) - Well-known real estate investment expert Alexander Radosevic, president of Canon Business Properties in Beverly Hills spoke at the prestigious 13th Annual Family Office Investment Symposium on Tuesday, Feb. 27, 2018. The speech event was held at the Loews Beach Hotel in Santa Monica.
The selection of Alexander Radosevic as a featured speaker was an obvious choice by event organizers and was lauded by many. Mr. Radosevic's unique approach to managing and investing wealth for Family Offices has made him an extremely popular go-to choice among families and others in the know. Those that are looking for safe, secure and prudent real estate investments in several of the most lucrative markets in the world – including in Radosevic's backyard of Beverly Hills – have gravitated to Mr. Radosevic and Canon Business Properties because of their highly successful track record and diverse skillset, unique and unlike most methodologies practiced at any other firm. Mr. Radosevic's personal style, adherence to core values and the twin hallmarks of quality and excellence coupled with his development of long-term personal relationships with his clients has led to what may well be the most loyal clientele in the industry. 
"Astute Family Offices – whether larger or those with fewer resources – have sought our firm because of the very clear differentiators that separate us from others," Radosevic said.
With a unique, and inspirational video introduction, Mr. Radosevic approached the stage to the sound of an applause, as the crowd was already energized. He shared the stage with other luminaries such as ABC TV's Daymond John from the hit series Shark Tank who spoke after Mr. Radosevic shared his own intimate knowledge and expertise in what was a compelling and engaging speech. Radosevic also shared some of the secrets of success that have contributed to the growth of his company and which have led to Canon's representation of prestigious Family Offices and others of wealth and prominence that have sought Mr. Radosevic's guidance and counsel. While he rarely speaks in public, attendees experienced an engaging, thoughtful and lively presentation by one of the nation's premier Family Office superstars.
The Family Office Symposium was held in Santa Monica, and attracted families of wealth and their investment advisers who attend the high profile event to learn the latest and most up-to-date financial advice and investment opportunities from leading experts in the field, including Mr. Radosevic.
About Alexander Radosevic
Born in Hollywood and a lifelong resident of the area, Alexander Radosevic is a true California native. Alexander has developed a well-earned reputation in the fields of money, property management and real estate investment. Mr. Radosevic has served as an advisor to the Economic Development Corporation of LA and is a board member of Canon Drive and Rodeo Drive Associations. His philanthropy extends to supporting The Children's Hospital, Doctors Without Borders, Big Brothers/Big Sisters of America, and the UCLA Special Olympics.
About Canon Business Properties
Founded in 2001, Canon Business Properties, Inc. ("Canon") is a private full-service real estate management and brokerage firm with an impeccable track record and reputation throughout the commercial, office, industrial and retail markets.
About the 13th Annual Family Office Symposium
FOIS 2018 is a highly acclaimed three-day Investment Symposium providing ample opportunity for family offices to discuss the investment outlook for 2018.
Contact Information
Dustin James | Director of Marketing
​dustin@canonproperties.com
(323) 394-6290
Tom Douglas | Investment Consultant
​tom@canonproperties.com
(424) 230-3300
Source: Canon Business Properties, Inc.
---
Categories: Real Estate, Real Estate Investments
Tags: alexander radosevic, Beverly Hills real estate, California real estate, commercial and industrial real estate, family office event, family office property management, family office real estate consultant, LA commercial real estate, LA industrial real estate, LA real estate, los angeles real estate, West coast real estate
---