Profit.co Stacks Up as the 'Leader' in the OKR Space for the 12th Consecutive Quarter in the G2's Summer 2023 Report
Press Release
•
Jun 30, 2023
Profit.co has secured an impressive 32 badges across 5 categories from G2, maintaining our position as a leader for the 12th consecutive quarter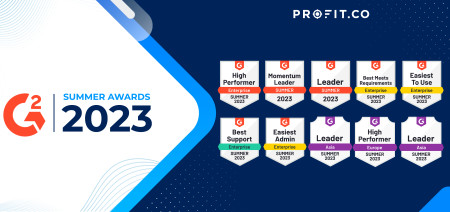 SAN FRANCISCO, June 30, 2023 (Newswire.com) - Profit.co is thrilled to announce its recent accomplishment of winning multiple badges on the G2 Summer 2023 Report. These badges are a recognition of the company's outstanding achievements and commitment to delivering exceptional service to its customers.
Profit.co's OKR management platform bridges the gap between strategic intent and execution. We empower businesses with tools to set and track quarterly objectives, driving individual and organizational performance with our Task Management Module. Our integrated modules foster Employee Performance and Employee Engagement, fueling a high-performance culture. We catalyze unmatched business performance and growth by optimizing individual efforts and eliminating organizational waste. Together, these modules form the perfect collaborative workspaces of the future.
World-class OKR Certification from Profit.co prepares the organization through engaging coaching sessions, backed by 24/7 customer support, to meet the customer's every need. The flexible, scalable, and easy-to-use OKR platform caters to small startups and large corporations.
The G2 Grid uses well-known software standards to assess products based on market presence and customer satisfaction. The rating uses verified reviews from Profit.co customers on G2.
G2 has recognized Profit.co as the Momentum leader in Strategic Planning and Execution, Task Management, and Performance Management categories. Profit.co has also emerged as a leader and high performer in OKRs, Task Management, and Performance Management categories. G2 has awarded the leader badge in the OKR space for small markets and Performance Management for mid-market.
Some customers have rated Profit.co with Five stars, like Ivan.D, Managing Partner, Small-Business, who has expressed his delight about our OKR software, "Just what I have been looking for."
Profit.co has consistently won leadership badges in Asia and the Asia Pacific for Performance Management. The high performer badge has been awarded in the enterprise category for OKRs, Performance Management, and Task Management by G2. The Easiest to Use and Best Meets Requirements badges are awarded to Profit.co in the enterprise category for OKR and Tasks.
Profit.co got a five-star rating from Jessica. R., VP of Operations and Client Services Mid-Market. Jessica R. expressed her happiness in one sentence, "Profit makes it easy!" Reviews and customer feedback have won Profit.co the coveted Users Love Us badge. Profit.co has also been recognized as the best support in the small business category.
About Profit.co
Profit.co, HQ in Fremont, CA, USA, is an enterprise OKR platform integrated with Performance Management, Task Management, Employee Engagement, and Strategy Execution. It allows users to align vertically with their management or horizontally across different departments, ensuring alignment of OKRs across the organization. Learn more at Profit.co, or connect on LinkedIn, Twitter, and Facebook.
Source: Profit.co