Professionals May Be Able to Afford Going to a Convention and Paying Student Loans, Notes Ameritech Financial
Press Release
•
updated: Sep 17, 2018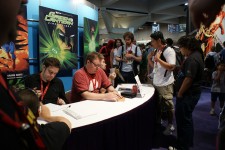 ROHNERT PARK, Calif., September 17, 2018 (Newswire.com) - Many conventions have become a rite of passage for anyone who wants to make connections in many industries. Unfortunately, the cost of student loans can make the cost of admission unlikely. Professionals who make regular visits to these institutions can attend skill development panels, make industry contacts and promote their own business, leading to career foundational development. Unfortunately, participating in conventions can be difficult to afford. This is especially true if the budding professional needs to pay their student loans as well as their convention expenses. Ameritech Financial (Ameritech), a document preparation company that assists student loan borrowers with federal repayment plan applications, may be able to help borrowers who want to repay their bills and go to conventions.
"Forming the right connections can be necessary to get your foot in the door for many industries," said Tom Knickerbocker, executive vice president of Ameritech Financial. "If student loans are getting in the way of forming the foundation of a career, then there may be a repayment plan that can help."
If student loans are getting in the way of forming the foundation of a career, then there may be a repayment plan that can help.

Tom Knickerbocker, Executive Vice President of Ameritech Financial
Ameritech may be able to help a budding entertainment entrepreneur switch to an income-driven repayment plan (IDR) to better afford attending the convention circuit. If a borrower is approved for an IDR they only have to pay up to 10 to 15 percent of their discretionary income on their monthly student loan payments. This can be as low as $0, which may help them afford a convention ticket or booth. If a borrower is short on time as well as money, then Ameritech Financial can assist further by helping a client with documentation such as annual re-certification. A borrower may be able to finish those edits that need to be done the night before the convention with the time saved.
"If a budding entrepreneur feels like student loans are holding them back, there may be a student loan repayment plan to help them," said Knickerbocker. "Ameritech would like to help align clients with federal programs to apply for that allow borrowers to lower their student loans and get them on track for student loan forgiveness. Hopefully, clients will be able to focus on the finances that matter most to them."
About Ameritech Financial
Ameritech Financial is a private company located in Rohnert Park, California. Ameritech Financial has already helped thousands of consumers with financial analysis and student loan document preparation to apply for federal student loan repayment programs offered through the Department of Education.
Each Ameritech Financial telephone representative has received the Certified Student Loan Professional certification through the International Association of Professional Debt Arbitrators (IAPDA).
Ameritech Financial prides itself on its exceptional customer service.
Contact
To learn more about Ameritech Financial, please contact:
Ameritech Financial
5789 State Farm Drive #265
​Rohnert Park, CA 94928
1-800-792-8621
​media@ameritechfinancial.com
Source: Ameritech Financial
Related Media
Additional Links