Professional-Level 3D Printing Now Costs Hundreds Instead of Thousands
Press Release
•
Apr 14, 2016
Trinus, the world's first professional-grade 3D printer made from all metal parts for under $500, is now live on Kickstarter.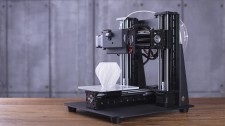 San Francisco, April 14, 2016 (Newswire.com) - ​​​​​​​​​​Currently, desktop 3D printers fall roughly into two camps. For under $500, you can buy a 3D printer suited for fun experimentation — one that is more toy than work machine. For $2000 or more, you can buy a printer that is suited for more serious prototyping and fabrication.
If you want high-quality printing but are on a tight budget, you are better off getting your prints from a third party.
Trinus has a "transformer" design: Its 3D printing head can be taken off and exchanged with a laser engraver.

Bojan, Head of Design
Industrial designer Bojan Smiljanic fell into this camp. As a creator of consumer products, he used to send all of his prototype designs to third-party 3D printers such as Shapeways. He did not want to spend thousands of dollars for a personal machine that might break down, fulfill only some of his needs, or require an upgrade after just a few years.
However, relying on third-party printers had its challenges too. Once, Smiljanic ordered two prints of a prototype for $100. He waited 20 days for the prototypes to arrive, only to find that they were printed with plastic that was too stiff. This type of experience was not uncommon.
Last year, Smiljanic joined Kodama, Inc., a small San Francisco-based startup looking to build a high-quality 3D printer that met the needs of professionals and hobbyists alike. They came up with Trinus, a fast, reliable, high-resolution 3D printer that can be transformed into a laser engraver within 60 seconds. Unlike most other 3D printers under $500, Trinus does not contain any cheap plastic parts — it is made entirely of premium metal. Trinus Campaign is now live on Kickstarter.
Campaign is already 1300% funded and Kodama Team is already introducing new improvements as they get feedback from backers. Trinus is getting new mechanical details, dual extruder head, LCD screen and many other to come after campaign is done.
Built to last
Constructed entirely out of high-end aluminum and steel, Trinus is probably the world's only all-metal 3D printer under $500.
More than a printer
Trinus has a "transformer" design: Its 3D printing head can be taken off and exchanged with a laser engraver. By the end of 2016, we aim to launch a third head—which is why we named our product Trinus, the Latin word for "triple." We are currently working on designs for a dual extruder (for mixing multiple filaments), a paste extruder (for printing with viscous substances such as chocolate), and a CNC router (for cutting wood and metal).
No filament restrictions
In addition to traditional PLA filament, Trinus can print with exotic materials, such as flexible, polycarbonate, wood, and aluminum filaments. Through our Kickstarter we are providing premium Polymaker filament at an exclusive discount.
Stability and precision
To make Trinus we scaled down the mechanics of industrial-grade machines. Built with a single-axis slider and robust internal components, Trinus does not require constant recalibration. Its parts stay in place.
High print quality
Trinus maintains quality printing up to print speeds of 70 mm/sec but is capable of running at a maximum speed of 150 mm/sec. With a minimum layer height of 50 microns, its prints come out clean and smooth.
Hassle-free assembly
Since Trinus has a simple modular design and only 11 units, someone with no technical experience can put it together in 30 minutes. Other, more expensive printers can have hundreds of pieces and require a full day to assemble.
Intuitive software
Trinus comes with its own proprietary Pango software, which includes many built-in features and works twice as fast as other slicers. However, you're not tied to Pango — Trinus is compatible with any other software package or gCode.
Enclosure and HBP
We offer many options to ensure you can optimize Trinus to your needs, including an enclosure case and a heated bed platform that lets you print ABS and PC.
To deliver you the best product, we teamed up with three partners
· Flextronics, one of the biggest names in the world for electronics and manufacturing
· Polymaker, one of the best and most innovative filament suppliers on the market
· Panowin, a 3D printing company with 3+ years of experience in the industry and more than 20 patents filled
Tech specs
· Print volume: 120mm x 125mm x 125mm
· Print speed: up to 70mm/sec | Moving speed: up to 150 mm/sec
· Minimum layer height: 0.05mm (50 microns)
· Print material: 1.75mm PLA, ABS, PC, Nylon, flex, wood, aluminum
· OS supported: Windows, Mac
· Connectivity: USB, SD Card (autoprint)
· Power consumption: 60W
· Weight: 9.8kg
Source: Kodama, Inc.
Related Media
Additional Links