Professional Hardwood Floor Refinishing in Suffolk County Now Available Easily
There is one company that offers hardwood floor refinishing in Suffolk County to give that polish to the hardwood floor that catches the eye.
Press Release
-
Oct 28, 2016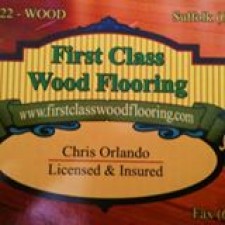 Suffolk County, NY, October 28, 2016 (Newswire.com) - Commercial spaces need to look stylish and professional all the time. Hardwood floors are therefore the common flooring that is found in office spaces. However, just laying down a hardwood floor is not the end of the story. Professional hardwood floor refinishing in Suffolk County is very much important for the longevity of a hardwood floor. A hardwood floor refinishing job is not something that can be handled by a novice. It requires perfection or there are chances of it getting messed completely. Professional companies like First Class Wood Flooring is there to help. They have been around for more than 10 years providing the richness and beauty in flooring design. They are thoroughly professional and offers 100% polyurethane clear wood floor finish for professional use on commercial floors. This two-part waterborne wood floor finish is fortified for durability with Aluminum Oxide and is very tough that promises all the sturdiness and longevity.
Trek Plus is the next generation in wood floor finishes. This is an extremely easy to use finish promises a long lasting beauty to the commercial floors. Trek Plus provides durability which can only be achieved by combining both the latest technologies in wood floor finishes- Aluminum Oxide and Two Component 100% Urethane Formulation. Trek Plus applies easily and provides a long wearing, beautiful finish to any floor. The company also offers an unprecedented 15 year Residential Limited Warranty ensuring that Trek Plus will not wear through the wood.
For more details on hardwood flooring in Stony Brook, visit http://www.firstclasswoodflooring.com/wood-flooring-stony-brook-ny.php
About The Company
With over 10 years of experience, First Class Wood Flooring is that one company that offers hardwood floor refinishing Suffolk County. They also take care of new floor installations, repairing old wood floors and more.
Source: First Class Wood Flooring
Share:
---
Categories: Flooring and Carpeting
Tags: Hardwood Floor, Hardwood Floor Refinishing Suffolk County, Hardwood Flooring Stony Brook
---