Professional Development Conference for Homestay Managers Addresses the Growing Demands for Host Families to Host the Increasing International Student Population in the USA
Press Release
•
updated: Nov 15, 2017
Madeleine Golda, Cross-Cultural Training Director of EduBoston, and Executive Director of Bachson Academy, to Present at Toronto Event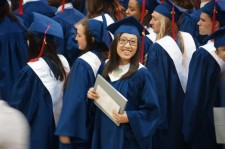 BOSTON, November 15, 2017 (Newswire.com) - EduBoston is pleased to have been invited to participate in the Professional Development Conference for Homestay Managers in Toronto. For over a decade, EduBoston has been a placement service provider to thousands of International Students interested in receiving a high school education in the United States and knows first hand the importance of placing these students with nurturing and loving Host Families.
​Recent studies support the growing trend of International Secondary Students studying in the United States. In fact, the study by the "iie Institute of International Education" in New York reflects that in 2016, there were 81,981 International Secondary Students who studied in the United States. This trend provides evidence that Host Families are needed more than ever, and professional organizations like EduBoston must continue to provide their knowledge and expertise to Host Families and professionals who manage Host Families to be able to stay in line with the growing trends.
The International Student homestay industry has to keep up with trends that affect students, including academics, cultural immersion, expectations, English proficiency challenges and so much more. Continual communication, guidance, and education help bridge the differences between North Americans and students from other cultures. I really appreciate being invited to Doug Ronsom's conference and look forward to collaborating with him further.

Madeleine Golda, Director of Cross-Cultural Training
The Professional Development Conference for Homestay Managers in Toronto, Ontario, Canada, takes place on Nov. 16-17, gathering professionals in the International Student industry focused on topics in relation to Homestay and Host Family Management for the international students in North America. Panels and sessions invite educators and host management professionals to participate over the two-day conference reviewing topics that discuss the demand for host families as the trend of students studying abroad increases.
Informative topics include:
Recruiting Great Host Families in Competition with Other Programs and Airbnb by Doug Ronson, ESQ Educational Services

Cross-Cultural Communication for Homestay Programs - Ms. Madeleine Golda, EduBoston
​
Preventing Homestay Coordinator Burnout - Jennifer Wilson, Canada Homestay Network

Mental Health; Changing Marijuana Laws and Concerns about Substance Abuse - Dr. Abby Goldstein, University of Toronto
And many other sessions. A full schedule can be downloaded at homestayguide.com.
The series of conferences that take place throughout North America is organized by visionary Doug Ronson, CEO of ESQ Educational Services. ESQ's mission is to enhance the international education experience for students, hosts and homestay coordinators. Being in the homestay industry for more than 20 years, having been a Host Parent and homestay coordinator, Ronson knows first-hand the benefits as well as the trials and tribulations of hosting and the homestay industry. He has published many manuals and guidebooks for hosts and students and for the past two years has been organizing professional development workshops for homestay managers and professionals in the international student industry. Ronson states, "We are delighted to have Madeleine Golda speak at the conference. The homestay managers in attendance will benefit from her expert knowledge and vast experience."
Ms. Madeleine Golda, Cross-Cultural Training director of EduBoston, and executive director of Bachson Academy, states, "The international student homestay industry has to keep up with trends that affect students, including academics, cultural immersion, expectations, English proficiency challenges and so much more." Golda continues, "Continual communication, guidance and education help bridge the differences between North Americans and students from other cultures. I really appreciate being invited to Doug's conference and look forward to collaborating with him further."
About EduBoston
Established in 1998, EduBoston is an industry-leading International Education consulting firm based in Boston, Massachusetts. Through the work of highly trained, dedicated local staff and CSIET-certified Host Family program, EduBoston ensures students are positioned to succeed both academically and socially. www.EduBoston.com
About Bachson Academy: Provide International Students and immigrants with effective and engaging English as a Second Language instruction, orientation to U.S. culture and the U.S. education system and improved learning skills, using methods which embrace learners' diverse backgrounds and goals and promote intercultural understanding, service to others, reflection on experience and individual achievement. www.BachsonAcademy.com
Ms. Madeleine Golda serves as its executive director and recently was nominated and elected to the board of directors of CSIET-The Council on Standards for International Educational Travel. www.csiet.org
Media Contact: Christina Andrianopoulos, Senior Marketing Officer, EduBoston, 857.498.1203, Christina@EduBoston.com
Source: EduBoston
Related Media
Tags
Additional Links