Product Innovations in Advanced Wound Care - Exudex®, Dextrosan®, Dextatic®
New Wound Care Dressings lead to better and faster healing in wide array of acute and chronic wounds.
Press Release
-
updated: Apr 5, 2017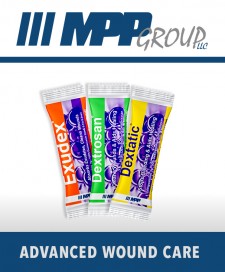 Mequon, WI, April 5, 2017 (Newswire.com) - MPP Group today announced the launch of three new advanced wound care dressings available in bottles and single serve stick-packs.
These three advanced wound care dressings are slight variants of each other all being based on the well-known and well documented Dextranomer Powder.
"Using Dextranomer in combination with Chitosan and Iron Sulfate is a game changer." Per Michael Morgan the Director of Business Development at MPP Group. "You are getting the best of both worlds, best of three worlds actually. Dextranomer has been used to treat chronic wounds for decades with great success. We add in Chitosan which has exemplary microbial and hemostatic properties. Not only does the Dextranomer suck up exudate, microorganisms and debris from the wound bed to the surface of the dressing; Chitosan stops and prevents bacterial growth allowing for quicker development of new skin granulation. By providing our dressings in powder form instead of pastes or gels they can absorb more exudate from the wound. In the case of bleeding wounds the addition of Iron sulfate stops the blood flow and allows the Dextranomer and Chitosan to do their job and start the healing process."
Exudex® is a 100% Dextranomer powder intended for the cleaning and removal of debris from wet wounds, ulcers and burns which are exuding either clean or infected plasma. With the introduction of Dextrosan®, MPP Group expands upon the long history of Dextranomer as a wound care dressing with the addition of Chitosan. Chitosan has been proven to exert antibacterial activity by electrostatic interaction between its positively charged amino functionalities and microbial cell membranes. Finally, MPP Group offers a strong Hemostatic dressing for quickly stopping bleeding as well as improving the wound bed and healing. Dextatic® is Dextrosan® with the addition of Iron Sulfate. A well-known and well-documented Hemostat. The combination of these three exceptional ingredients create an ideal dressing for wounds that need to control bleeding fast and create a moist environment for wound healing.
Exudex®, Dextrosan® and Dextatic® are the jumping point for this new medical startup. We have been assured that many more products are coming from MPP Group, which looks to firmly establish themselves in the Medical Device and Nutraceutical markets.
Media Contact:
Michael Morgan
Phone: (262) 336-8280
Email: mmorgan@mppgroupllc.com
Source: MPP Group, LLC
---
Categories: Healthcare, Healthcare and Medical News, Healthcare Technology, Nursing, Healthcare and Medical News
Tags: Advanced Wound Care, Advanced Wound Care Dressing, Antimicrobial, Chitosan, Chronic Wounds, Dextranomer, Hydrophilic, Medical Device, Pressure Ulcers, Wound Care, Wound Care Dressing, Wound Filler
---