Product Highlight in Las Vegas: VPMS MediaEditor, Browser-Based NLE, Launches at NAB 2019
Press Release
•
updated: Mar 25, 2019
• Latest solution from Arvato Systems enables quick and simple browser-based editing for journalistic storytelling • Enables publishing to multiple platforms in various formats from within the browser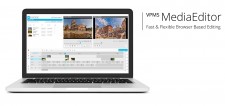 NEW YORK, March 25, 2019 (Newswire.com) - Arvato Systems announced today that it will launch VPMS MediaEditor, a new browser-based non-linear editing (NLE) solution, on Stand SU10106 at NAB 2019.
First seen as a technology preview at IBC 2018, MediaEditor is a fully featured, browser-based desktop editor aimed at journalistic editing and content preparation workflows. MediaEditor projects can be easily exported and published in various formats, including square and vertical video, or can be opened in Adobe Premiere Pro with VPMS EditMate for craft editing.
Thanks to its intuitive user interface you can get started right away
MediaEditor provides an instantly familiar editing interface making it quick and easy to learn. Functions include simple drag-and-drop transitions and effects, and basic color correction. Users can also record voice-overs directly into a sequence, and the system enables automatic mixing of audio tracks for quicker turnaround. MediaEditor will also offer motion graphics for captioning and pre-generated graphics in an upcoming version.
Product suite is growing
MediaEditor is a part of Arvato Systems' Video Production Management Suite (VPMS) enterprise MAM solution. Like other products in the suite, it can be independently deployed and scaled, or combined with other products for workflows across the media enterprise. MediaEditor can also be used with Vidispine-based systems, and VPMS and Vidispine clients can access their material through MediaEditor, whether on-premise or via the cloud. MediaEditor takes advantage of the advanced VPMS streaming technology allowing users to work anywhere with high quality, responsive video playback, even on lower speed connections. "MediaEditor provides an extremely efficient way of creating effective video content that can be deployed quickly and easily," said Christian Siegert, Head of Product Management VPMS at Arvato Systems. "With its simple creative toolset, easy to use interface and slick integration with complementary products, it is an ideal solution for journalistic storytelling."
MediaEditor will be available for demonstration, together with a range of Arvato Systems' solutions for broadcast management, MAM and Video, on booth SU10106, at NAB 2019, taking place at the Las Vegas Convention Center from 8-11 April 2019.
Source: Arvato Systems
Tags
Additional Links