Preventing the "King of Occupational Diseases"
Vandalia Rental: Educating Local Businesses with Silica Compliance Assistance Materials
Press Release
-
updated: Aug 8, 2017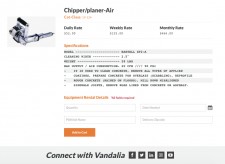 Franklin, Ohio, August 8, 2017 (Newswire.com) - The construction industry has had one year to become compliant with the Occupational Safety and Health Administration (OSHA) respirable crystalline silica regulations. That compliance deadline has been extended from June 23, 2017, until September 23, 2017, to provide guidance and education to employers and at-risk workers regarding the dangers of exposure to airborne silica dust in the workplace.  
The stricter regulations came about to protect the over 2 million construction workers in the United States who are exposed to airborne silica dust while drilling, sandblasting, jackhammering, grinding, crushing, cutting, or polishing silica containing stone, artificial stone, concrete, and ceramic tile.  Inhaled airborne silica dust can lead to slow suffocation from silicosis of the lungs, lung cancer, chronic obstructive pulmonary disease, and chronic kidney disease. The National Institutes of Health refers to silicosis as the "King of Occupational Diseases" because it is an incurable but preventable occupational disease, and the new OSHA ruling hopes to prevent 900 cases of silicosis yearly.
In addition to utilizing best practice engineering controls to limit dust exposure with water or vacuum systems, as well as air sampling to measure the permissible exposure limit (PEL), the new respirable crystalline silica ruling will require: 
·      Evaluation and recognition of potential hazards before a job begins and limit worker exposure to areas with high levels of silica.
·      Employers provide training to all workers on the risks of airborne silica and how to avoid exposure.
·      A reduction in the permissible exposure limit of respirable crystalline silica from 100 micrograms to 50 micrograms per cubic meter of air, averaged over an 8-hour work shift.
·      Require employers to use engineering controls and provide respirators when levels exceed the limit.
·      Provide regular medical monitoring and exams to workers exposed to high levels of airborne silica dust and provide these workers information on their lung health.
·      Require employers to develop a written exposure control plan.
OSHA offers a consultation program and some flexibility so small companies can comply with the requirements, implement exposure control plans, and take corrective actions without incurring enormous expenses. Vandalia Rental can also help your business adhere to these new regulations with compliance assistance materials. 
Compliant equipment available at Vandalia Rental includes:
019-0124 CHIPPER/PLANER-AIR    
019-0126 CONCRETE PLANER-8" GAS
019-0127 CONCRETE PLANER-8" ELECTRIC-110V
019-0128 CONCRETE PLANER-8" ELECTRIC-230V
019-0130 VACUUM for PLANER               
027-0020 DRILL-DIAMOND CORE DRY-HAND
027-0023 DRILL, DIAMOND CORE-HAND   
027-0025 DRILL RIG-DIAMOND CORE     
032-0056 VACUUM, COMMERCIAL HEPA
037-0005 SPIRAL GRINDER
037-0014 CONCRETE FLOOR GRINDER ELEC          
037-0018 GRINDER 7" TURBO EDGE W/DIAM DISC    
037-0019 GRINDER 10" TURBO PROPANE W/DIAM DISC
037-0020 GRINDER 10" TURBO W/DIAM DISC        
037-0023 GRINDER, 5" TUCKPOINT DUSTLESS       
037-0040 GRINDER, DUSTLESS CONCRETE       
038-0012 AIR SCRUBBER & NEGATIVE AIR MACHINE-HEPA
073-0003 SANDBLAST HELMET-AIR FED
074-0060 CERAMIC TABLE TILE SAW 10" 
074-0061 FLOOR SAW, PNEUMATIC (PUSH)
074-0067 FLOOR SAW, 13 HP (PUSH)     
074-0068 FLOOR SAW, 20 HP (SELF-PROP)
074-0069 FLOOR SAW, 50 HP (SELF-PROP)
074-0070 FLOOR SAW, 35 HP (SELF-PROP)
074-0088 BRICK SAW, ELECTRIC       
074-0098 PAVER SAW, ELEC 10"       
074-0100 SAW, CUT-N-BREAK          
074-0105 SAW, BRICK/MORTAR-HANDHELD
074-0115 CONCRETE CHAINSAW 12"     
074-0118 CUTQUIK SAW 14"
074-0120 CUTQUIK SAW 16"
https://www.ncbi.nlm.nih.gov/pmc/articles/PMC2879610/
http://www.lung.org/lung-health-and-diseases/lung-disease-lookup/silicosis/silicosis-symptoms-causes-risk.html?referrer=https://www.google.com/
Press Contact: 
Alisha Lange, Marketing Director
PO Box 160
Vandalia, OH 45377
Phone: 937.665.2110
E-mail: pr@vandaliarental.com
Twitter: www.twitter.com/vandaliarental
Facebook: www.facebook.com/vandaliarental
www.facebook.com/vandaliarentalfranklin
Source: Vandalia Rental
Share:
---
Categories: A&E News, Business to Business, Regional Business News, Construction, Industry News, Public Safety
Tags: Construction, construction education, contractor, light equipment, Mid-America OSHA, Ohio construction, OSHA, Silica regulations
---