President of D. James Kennedy Institute Urges American and British Commonwealth Military to Return to 'Mother's Knee Ethics' in Officer Training
The address was given to Anglo-American Military Ethicists in Washington D.C.
Press Release
-
updated: Aug 8, 2018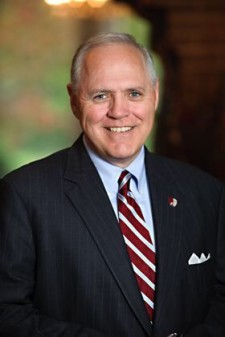 CHARLOTTE, N.C., August 8, 2018 (Newswire.com) - Dr. Milton went to Washington. And not unlike the Jimmy Stewart character in "Mr. Smith goes to Washington," Michael A. Milton, a Presbyterian minister, educator, and retired Chaplain (Colonel) went to the nation's capital with a passionate message. He delivered that message, having been invited to present a scholarly paper and to address to Symposium on International Military Ethics: World War I Centenary (1918-2018). The Symposium was hosted by the U.S. Chief of Chaplains and HM Chaplain General of British Land Forces. A copy of his scholarly parse may be found here. Dr. Milton urged a gathering of American and British ethical educators and scholars, "Our officers and service-members must have an ethical framework to help make sense of war. 'Civic ethics' that merely call for 'courage' cannot answer the great existential questions that arise in combat and demobilization from war. Our Armed Forces need to be instructed unapologetically with the ethical system learned as a child on mother's knee."
According to Milton, that ethical system is clearly laid out in the Army Ethics White Paper (2014), the U.S. Constitution, and the British constitutional monarchy: a Judeo-Christian ethic. He added, "For the ethical framework that begins with the reality that Humans are spiritual being created by a God who has revealed Himself to the world and who has spoken in, e.g., the Ten Commandments, Men will fight. Men will give their lives. Equally important, they can live without dying by degrees." Dr. Milton warned that, like the post bellum 'crisis of meaning' following WWI, the West faces the consequences of an ethic without God. Milton said those consequences include, among other 'pathologies of the soul,' confusion about right and wrong, good and evil, "all of which lead to despair." The D. James Kennedy Institute of Reformed Leadership ("DJK Institute") is a nonprofit 501c3 program of Faith for Living, Inc. The DJK Institute's mission is to prepare recent seminary graduates and local church elders and "lay-leaders" for the pastoral work of ministry. The signature program is a 12-month, post-seminary pastoral residency for new clergy of all denominations. Learn more at djkleader.org.
Michael A. Milton (PhD, University of Wales; MPA University of North Carolina at Chapel Hill) is president and senior fellow of the D. James Kennedy Institute. A retired Colonel, US Army, having served as Command Chaplain of U.S. Military Intelligence (Reserve), Milton is a Presbyterian minister, educator, and author of thirty books and numerous peer-reviewed and popular articles. The former Chancellor of one of America's largest graduate schools of theology, he serves as the James Ragsdale Chair of Missions at Erskine Theological Seminary.
Further information is available at michaelmilton.org/cv.
Source: D. James Kennedy Institute of Reformed Leadership
---
Categories: Religion
Tags: British and American Chaplain Corps, International Military Ethics Symposium, National Defense University
---