PreEmptive Solutions Launches GDPR Compliance Relief Program
​​​​No-fee initiative for small business developers reduces cost and complexity of GDPR compliance
Press Release
-
updated: Nov 15, 2017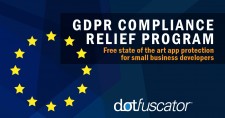 New York City, NY, November 15, 2017 (Newswire.com) -  PreEmptive Solutions today announced at Microsoft Connect 2017 the launch of The GDPR Compliance Relief Program to provide small businesses with software and other resources designed to simplify and reduce the cost of complying with development-specific GDPR compliance requirements.
 "Small businesses have always been disproportionately burdened by regulations and GDPR will probably be worse than most," said Gabriel Torok CEO of PreEmptive Solutions. "Applications exist to process data and that makes it exceptionally likely that small businesses that develop software will not qualify for the small and micro business exemptions included in GDPR Article 30 (5). Their burden will be the same as their large, multi-national counterparts."
Denis Heliszkowski, Senior Partner and Channel Marketing Manager at Microsoft Corp. added, "The GDPR is compelling every organization to consider how they will respond to today's security and compliance challenges. Microsoft supports all aspects of the GDPR process including audit and consulting, cloud migration assistance, as well as delivering specific point solutions. PreEmptive Solutions' GDPR Compliance Relief Program, building off of Visual Studio 2017, demonstrates our shared commitment to the critical areas of privacy and security."
"For those who thought that regulatory risk and civil damages from hacking couldn't go any higher, get ready for GDPR," said Alexander J. Urbelis, Partner Blackstone Law Group LLP. "Taken together, GDPR's sky high penalties and its 'state of the art' standard make GDPR one of the most significant developments in privacy regulations in the past 20 years."
"The GDPR has clear-cut requirements for applications that process personal data," says Sebastian Holst, CSO at PreEmptive Solutions. "For processors that develop their own software, these requirements naturally extend into their development practices and processes."
Recital 78 of the GDPR, directs developers to give "due regard to the state of the art" when "developing, designing, (and) selecting applications" that "process personal data" to "ensure the ongoing confidentiality, integrity, availability and resilience of processing systems and services (GDPR Article 32)." 
Recital 78 concludes by recommending that the principle of "security by design and by default be considered" when selecting suppliers. 
Software vendors have two critical reasons to get GDPR compliance right; for their own compliance and to remain competitive in markets that also need to maintain their own GDPR compliance.
PreEmptive's GDPR Compliance Relief Program provides unlimited access to:
Dotfuscator Community Edition VS 2017 with an extended license permitting commercial
Sample code integrating with Microsoft Azure services including Application Insights
Access to live technical support
Access to monthly GDPR-related webinars specifically targeting development compliance with GDPR
Template GDPR controls and implementation project plans to further simplify and shorten compliance efforts.
There are no fees. Participation is complimentary for qualifying organizations.
In order to be qualify, an organization must:
Have fewer than 50 employees,
Have a valid Microsoft license for Visual Studio 2017, and
Agree to be identified as a GDPR Compliance Relief Program participant.
For more information and to register as a GDPR Compliance Relief Program participant, visit www.preemptive.com/gdpr-developer-relief
About PreEmptive Solutions
PreEmptive Solutions secures the value of innovation and mitigates development risk through a combination of binary hardening and real-time detection, defense and monitoring controls. 400 of the Fortune 500 trust PreEmptive Solutions to reduce application development risk including Intellectual Property Theft, Revenue Loss, Fraud, Data Theft, and Privacy Breaches. 5,000 development organizations across industries in 140+ countries trust PreEmptive Solutions to secure desktop, mobile, and cloud applications. For more information, visit www.preemptive.com or call +1 440.443.7200.
Source: PreEmptive Solutions
Share:
---
Categories: Computer Software, IT Security, Intellectual Property Law, Information Technology, Privacy Law
Tags: Dotfuscator, GDPR, Microsoft Connect, Visual Studio
---