Preciate Picks Up Pace, Raises $12 Million, and Changes Name to Scoot
Press Release
•
Feb 22, 2023
Significant investment advances the company's leadership position and accelerates its mission to dramatically increase attention and engagement in virtual meetings.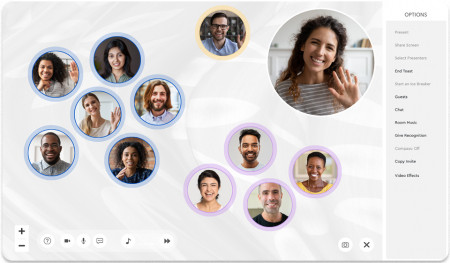 DALLAS, February 22, 2023 (Newswire.com) - Preciate, the world's leading dynamic virtual meeting platform, today announced it has closed a $12 Million Series A funding round. The funding, led by Woodland Capital with participation from existing investors, will be invested in product development and scalability to serve a growing set of global customers. Additionally, the company announced it has changed its name to Scoot, emphasizing the importance of movement and energy in hosting successful meetings.
Scoot is redefining virtual meetings, gatherings, and networking. Gone are the days of static images pinned to the screen. Scoot unlocks a new dimension for virtual meetings by replicating what happens when a group of people (small or large) gather together in person to network, share and discuss ideas. The upside is a level of engagement and productivity that resembles physical meetings, but with the flexibility, speed and cost savings of a virtual meeting.
"We have all seen and felt first-hand the frustrations of legacy virtual meeting platforms in the past few years, and Scoot offers a fresh alternative to the sea of silent black boxes that has come to be synonymous with remote work," said Gabriel Goncalves, Managing Partner at Woodland Capital, who now joins Scoot as Executive Chairman of the Board. "We know without a doubt that there is a huge opportunity to expand Scoot's presence around the globe," said Goncalves.
The company name change to Scoot comes as demand for its virtual meeting platform has continued to grow, as enterprises around the globe struggle to combat remote employee fatigue and disengagement. To date, companies of all sizes have adopted Scoot to increase engagement in a variety of virtual settings, including All-Hands meetings, webinars, networking events, learning & development sessions, onboarding, and recruiting.
"Scoot is a fun name, and it reflects the energy our product brings into meetings. We think it will help more companies recognize that their virtual meetings can be more engaging, addressing employee detachment in the modern hybrid workplace," said Ed Stevens, Founder and CEO of Scoot. "This Series A financing, closed in the midst of a significant tech bear market, proves there is a massive need for Scoot. We're going to continue expanding our platform and making it better, all while global enterprise demand for our product expands."
To learn more about Scoot and how they are revolutionizing virtual meetings in the modern world, please visit https://scoot.app.
About Scoot
Scoot energizes virtual meetings by replicating what happens when a group of people gather together in person to network, share and discuss ideas. As a certified B corporation, Scoot is on a mission to use the power of technology to help companies build healthier relationships and accelerate business in the modern hybrid workplace. Powered by our patented Social Presence® technology, Scoot has been adopted by Fortune 500 enterprises around the world. Scoot is a remote-first company with its headquarters in Dallas, Texas. For more information, visit https://scoot.app.
About Woodland Capital
Our mission at Woodland Capital is to help entrepreneurs transform their visions for disruptive business-to-business offerings into successful, high-growth software companies. At Woodland Capital, we understand that success takes hard work, dedication and sheer perseverance. We leverage our partners' successful operational experiences to help founders through the journey of transforming their visions into disruptive reality. Learn more at www.woodlandcapital.com.
Source: Scoot