Praxis AI and We Rock DM Honored Two Silver 2023 American Business Awards (The Stevie AwardsTM) in Web Design and Navigation/Structure
Press Release
•
May 2, 2023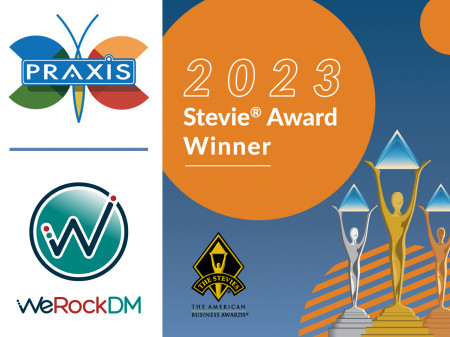 AUSTIN, Texas, May 2, 2023 (Newswire.com) - Praxis AI, an award-winning digital education & research company, and We Rock DM, a top Austin-based website design and digital marketing agency, announced that they have been awarded several American Business Awards, including two silver awards for Achievement in Website Design and Website Navigation/Structure. The awards recognize the companies' unique and engaging website approach to educating customers and students about the Praxis AI mission statement … Transform Yourself. Change the World.
"Praxis AI has always had big, audacious plans to revolutionize learning and research, and our new website needed to embody that vision," said David James Clarke, Global Managing Partner of Praxis AI. "When we embarked on this ambitious journey, we knew that our appetite for creativity, content, and interaction was sky-high. We wanted a website that would not only be visually stunning but also push the boundaries of what a digital entertainment platform could be. Enter We Rock DM - our partners in bringing this vision to life!"
"We collaborated to create a 'story' in the hero animation that visually communicates how each offering works together to accomplish the Praxis mission statement," said Tricia Ulberg, Partner at We Rock DM. "Our design approach prioritizes simplicity and accessibility, while incorporating creative design elements to make the website visually appealing. We strategically placed design elements, such as a changing text carousel, to make the website easy to navigate and understand."
ABOUT THE STEVIE AWARDSTM
The American Business Awards are the premier accolades for excellence in U.S. business, honoring organizations of all sizes and industries. Nicknamed the Stevies for the Greek word meaning "crowned," the 2023 competition received more than 3,700 nominations.
See the full list of the 2023 Stevie Awards winners here.
ABOUT PRAXIS AI
Praxis AI is an award-winning digital education & research company dedicated to solving many of the world's toughest problems, including climate change, inequality in education, cancer, hunger, cultural resilience, and global digital transformation.
Founded in 2019, Praxis AI has revolutionized learning at several U.S. universities, built a virtual institute for indigenous health research, designed a Digital Learning standard for the International Standards Organization (ISO), educated thousands of students, and hosted several cancer BioHackathons.
To learn more, visit www.praxis-ai.com and connect on LinkedIn.
ABOUT WE ROCK DM
We Rock DM is an Austin, Texas-based web design and digital marketing agency, founded in 2022 by an award-winning digital marketing instructor and WordPress developer and an accomplished graphic and web designer.
We Rock DM is focused on smart, data-driven, and design-centered websites, brands, advertising, and digital marketing products. The founders also host a digital marketing podcast called We Rock DM Amplified and teach web design courses at We Rock WP Academy.
To learn more, visit www.werockdm.com and connect on LinkedIn.
Source: We Rock DM