Prana Pets Creates CBD Oil Product; Studies Show CBD Oil Can Help Treat Epilepsy for Dogs and Cats
CBD Oil for Pets is a safe, gentle, and nutritive supplement for pets of all ages.
Press Release
-
updated: Oct 26, 2017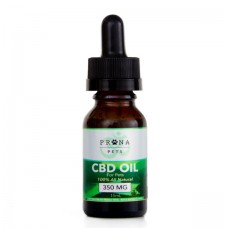 DELRAY BEACH, Fla., October 26, 2017 (Newswire.com) - Prana Pets, a company that develops herbal and homeopathic treatments for pets, has created a CBD Oil for Pets (Cannabidiol). Studies show that CBD can help treat a variety of ailments including digestive issues, anxiety, seizures, joint and muscle pain, and more.  The CBD Oil for Pets is a natural compound produced by the Cannabis or hemp plant. A recent survey of Prana Pets customers found that nine out of 10 customers say that their pets' seizures were reduced significantly after using Prana Pets CBD Oil along with the Seizure Support product, and more than half of the customers responded that the combination stopped the seizures altogether.  The results of the survey can be found on https://www.pranapets.com/cbd-oil-for-seizures-in-pets-survey/
"We are very impressed with the positive results our customers have been seeing with the CBD Oil for Pets," says Brad Solomon, co-founder and co-owner of Prana Pets. "Many of our customers use the products to help reduce seizures, treat anxiety or digestive issues, while other customers are also using CBD for Pets for dogs and cats suffering from joint and muscle pain. Although we offer 100 percent money back guarantee, almost all of our customers are happy with the product. Some of our customers are even using the CBD themselves."
Prana Pets CBD Oil for Pets is compounded by a licensed pharmacist specifically for pet use. It is non-toxic, non-habit forming, and non-psychoactive. The CBD Oil for Pets also does not produce a "high" as it does not contain THC or any other psychoactive compounds. CBD Oil is not known to interact negatively with any other medications or supplements and is considered safe and beneficial for aging and elderly pets.
One customer offered some praise for the oil's effectiveness. Katie K. wrote, "Prana Pets CBD oil has helped our dog with epilepsy so much! He went 12 weeks seizure free which is about four times longer than he's ever gone without a seizure, we are so happy we found this oil!"
Prana Pets also offers some detailed research on medical marijuana for pets. For more about the company and the CBD Oil as well as their other pet products, visit PranaPets.com.
About Prana Pets
Prana Pets develops herbal and homeopathic treatments for pets. Our products include treatment for pets with symptoms of cancer, Cushing's disease, liver and kidney problems, joint and muscle problems, respiratory issues like asthma, UTI, parasites, and more. For more information, visit PranaPets.com.
Press Contact: Brad Solomon - brad@pranapets.com 484-686-9628
Source: Prana Pets
Share:
---
Categories: Healthcare, Pets
Tags: CBD for Cats, CBD for Dogs, CBD Oil for Cats, CBD Oil for Dogs, CBD Oil for Pets, Medical Marijuana for Pets, Vet CBD oil
---