Powerful Ad Campaign Yields Over 50% Conversion Rate
Press Release
•
updated: Nov 17, 2020
A Victory for Kindness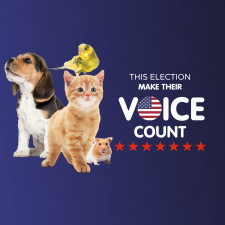 SAN DIEGO, November 17, 2020 (Newswire.com) - Amidst the potential of election fatigue, Cruelty Free International, the world's leading organization to end animal experimentation, enlisted Kindvertising, a rising star in the advertising industry, to draw public attention to the issue of animal research and testing.
The results of the campaign were remarkable: over a quarter of a million impressions, 10,000 landing page visits, and 5,400 pledges in less than four weeks—a record 51% click conversion rate. By comparison, Facebook conversion rates typically range between 2.3% and 14.3%. "The campaign exceeded the highest industry benchmarks by nearly four times," comments Ben Dutter, Media Strategist for the campaign.
Kindvertising, who has represented the likes of UNICEF, The Nonhuman Rights Project, and Miyoko's Creamery, launched the month-long campaign, called #MakeTheirVoiceCount, on Facebook and Instagram. Using a series of animal sounds which were translated to English via an interactive landing page, the campaign prompted viewers to recognize that while animals in laboratories may not speak a common human language, their voices—and by extension, their best interests—still matter, and it's up to compassionate humans to pledge to speak up for them over the next four years. The pledge is still available to view and sign here.
"People are becoming increasingly aware of how animals are used in testing and awakened to the fact they deserve better lives. The campaign offered helpful information on how people can support alternatives to animal tests, retire dogs, cats, and rabbits from laboratories into loving homes, and the possibility of reallocating billions of laboratory testing tax dollars into more sustainable and humane options," states Stefania Poletti, Kindvertising's founder, on the campaign's success.
These results follow another successful partnership by Kindvertising and Cruelty Free Europe, which integrated billboards and a Tweetstorm to urge the EU Parliament to enact more meaningful reductions in animal testing. The campaign culminated with the first-ever European Day for Humane Science and generated significant awareness across Europe, as well as the enthusiastic participation of several Members of the European Parliament.
Readers can learn more about how the animal-centric campaigns represent and improve lives by clicking here.
About Kindvertising, LLC:
Kindvertising is a woman-owned advertising agency whose mission is to promote kindness. The company specializes in promoting environmental protection, animal protection, and human rights. For more information, please visit: www.kindvertising.com. To stay up to date on Kindvertising's initiatives, the organization can be followed on Facebook and Twitter @Kindvertising.

Press Contact:
Shanna Loveman, Head of Public Relations
shanna@kindvertising.com
805-738-3177
###
Source: Kindvertising, LLC