Porto Jewish Community Asks European Union to Investigate Case of Soviet-Style Antisemitism in Portugal
Press Release
•
Feb 10, 2023
Request aims to reassure the Jewish community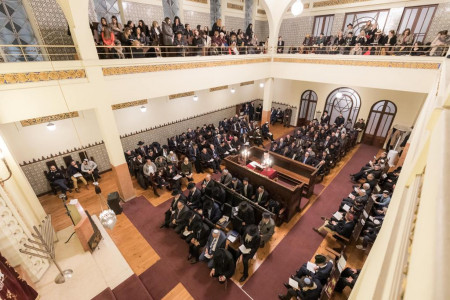 PORTO, Portugal, February 10, 2023 (Newswire.com) - The Jewish Community of Porto (CIP/CJP) has called on the European Union to instigate an impartial international investigation into "an antisemitic action that took place in Portugal using robbers, murderers and convicts who intended to defame the country's strongest Jewish community, destroy Jewish leadership, halt the influx of Israeli citizens and end the law that granted Portuguese citizenship to Jews of Portuguese and Spanish origin. In March 2022, police raided the synagogue and arrested its rabbi, and in September the High Court said that criminal indictments against the community were 'based on nothing,'" says the community's president, Gabriel Senderowicz.
Deborah Elijah, president of Keren Hayesod Portugal, explains that the basis for the Soviet-style antisemitism was "primarily the use of criminals and the press to defame the most important Jewish communities, to associate them with immoral businesses and then to try to link the rabbis for fictitious corruption. Weak communities linked to existing powers were used to serve as propaganda, like a musical instrument, as my father was forced to play the violin in the Theresienstadt concentration camp."
A community council member for legal affairs, attorney David Garrett, says that the EU investigation is necessary. "If the anonymous, slanderous complaints were not made by convicts at the request of state agents; if the attempt to eliminate the first signer of a petition to the parliament was authored by someone who chose his target at random; if there is no relationship between the professional burglars who stole the server from a community lawyer [in Porto] and the computers of the president of SIRESP [in Lisbon] - so everything was nothing more than a miraculous coincidence and the community should not remain alarmed. If, on the contrary, the investigation concludes that state agents used criminals and all the press against a religious and cultural organization [the Jewish community of Porto], then we can say that they wanted mostly to destroy a Jewish nascent elite, and that the aim was not merely to initiate proceedings against suspects for the practice of illegalities. Against these, legal means of obtaining evidence would be used, the police would not be used as an instrument, much less whether they would use burglars, murderers and manufacturers of anonymous complaints."
Source: The Jewish Community of Porto
Tags