Portland Based Tech Startup, Rynly, Introduces a New Customer Portal, New Coverage Locations and a New Way for Business to Deliver Packages in the PNW and Beyond!
Takin Portland and Seattle by storm, small business are saving 50% or more when they deliver their packaged with Rynly.
Press Release
-
updated: Nov 7, 2018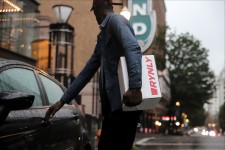 PORTLAND, November 7, 2018 (Newswire.com) - Launching earlier in 2018, Rynly is disrupting the package delivery industry by offering faster delivery windows at a lower cost than most shipping options, it's easy to see why Rynly is accumulating loyal customers in Portland and Seattle offering city-to-city package delivery for only $5-$10. Keeping their customers in mind, Rynly is set to release their new and improved user portal which was built from the ground up to offer hassle-free package delivery via their easy to navigate website.
By combining their proprietary technology with their reliable independent drivers, Rynly is cutting package delivery costs for business by 50% or more. "It really comes down to people working together," says Operations Manager Ashley Dyer, "Our business model is centered around working in unison with drivers and business to overcome the logistical challenges while keeping delivery costs low and now with our new user portal improvements, it will be easier for customers to create and ship packages with fewer steps than before."
In addition to their new customer portal, Rynly is teaming up with shared workspace industry leaders to expand their coverage area in Portland and Seattle in different ways. "There is a clear synergy between coworking spaces and our services," says marketing coordinator Jonny Perez. "All over Portland, you see people helping people, communities coming together to create a welcoming, vibrant environment where innovative ideas can flourish. Rynly is one of those ideas. We are not only offering our services directly to the members of these share workspaces, but our customers will also be able to drop off packages for delivery at these designated locations." Rynly is partnering with industry giants such as Regus to offer new package drop off locations in Portland and in Seattle, with more locations to come in January 2019.
Through app-based technology, an independent driver network, and easy to use shipping options, RYNLY is poised to shake up the shipping industry while creating a new breed of entrepreneurs looking to monetize their city traveling and ease shipping costs for urban businesses in the Pacific Northwest. "As our coverage area grows, so does our relationships with small businesses in the Pacific Northwest and beyond. We're excited to increase our coverage radius while still being able to offer city-to-city delivery in Portland and Seattle for only $5-$10" says co-founder Won Cho."
Source: Rynly
---
Categories: Emerging Businesses
Tags: delivery, emerging technology, Package, PNW, Portland, Seattle, shipping, Startup, technology
---