Pokémon Go Has a Rival - All Hell Is About to Break Loose!
Press Release
•
Jul 21, 2016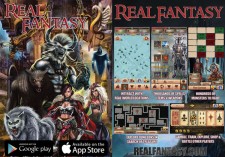 Las Vegas, NV, July 21, 2016 (Newswire.com) - With Pokémon Go having just become a global sensation, we are pleased to announce the release of another - and WAY cooler - GPS game. Called Real Fantasy®, it is available now on iPhone and Android.
Three years in the making, Real Fantasy® is a mobile game unlike any other. While Pokémon Go just scratches the surface of GPS gaming, Real Fantasy® delves much deeper, taking the technology to an exciting new level. So forget about the Pikachu! Get out there and track down the Minotaur and Medusa, Zombies and Vampires, Dragons and Dire Wolves and vanquish them!
Intended for young adult and adult gamers, Real Fantasy® creates an interactive world around the player by utilizing millions of real-world locations. Businesses and landmarks become interactive dungeons, blacksmiths, taverns, magic shops, deadly towers and more!
Thousands of creatures, weapons, supplies, allies, potions, spells and armors interact to create a vast and unique experience previously unknown in mobile gaming. Players explore in search of treasure, fight wandering monsters and virtually attack nearby players and their castles!
Fans of "Dungeons & Dragons," "Elder Scrolls" and "Dragon Age" will find the best elements of traditional role-playing games infused with the exciting new GPS technology which is only available on mobile platforms. Real Fantasy® is the first of its kind!
Pokémon Go - You are going down!!!
About Real Fantasy,​ Inc.: Real Fantasy, Inc., is a Las Vegas-based mobile game company. With two small, previous titles to our credit, Real Fantasy® represents the vision of CEO Chris Hood who has been a lifelong fan of the Sword & Sorcery genre and wanted to create a new kind of gaming experience. In Chris' words, "This is the kind of game that I always dreamed of playing, but it didn't exist. So I made it..."
Much more at RealFantasy.com. Follow us on Instagram: RealFantasyRPG
Contact:
Chris Hood, CEO
Real Fantasy Inc.
admin@realfantasy.com
702-501-1265
Source: Real Fantasy, Inc.
Related Media