Point-of-Care Partners Releases Report Entitled 'Real-Time Pharmacy Benefit Check: The Payer Value Proposition'
Press Release
-
updated: Nov 19, 2018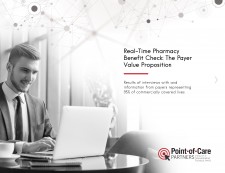 JACKSONVILLE, Fla., November 19, 2018 (Newswire.com) - Today, Point-of-Care Partners announces the release of the report "Real-Time Pharmacy Benefit Check (RTPBC): The Payer Value Proposition" as a free download on the Point-of-Care Partners website.
RTPBC, as a means to deliver patient-specific information in real time from the payer to the point of electronic prescribing, is valued differently across various healthcare stakeholders. Payers, in particular, have increased their focus on advancing RTPBC and Point-of-Care Partners sought to understand the key drivers fueling this activity in the short-, mid- and long-term time horizons. This report provides a summary of our qualitative research based on information from* and interviews with 6 of the top 10 pharmacy benefits managers (PBMs),  which cover 95 percent of commercially covered lives.
"The clear takeaway was that payers are focused on improving core performance measures, such as drug utilization and administrative costs in the short-term while improved clinical outcomes such as reduced time to therapy for patients was seen as a longer-term goal," said Michael Solomon, Practice Lead of eCare Management with Point-of-Care Partners.
"We wanted to share this research with the industry to increase the focus on RTPBC while also providing concrete next steps stakeholders can take to help advance and improve this exciting innovation. Our efforts are intended to encourage broad adoption of RTPBC by payers and providers to increase transparency of drug information at the point of prescribing and ensure the best, most affordable treatment is chosen."
The report will be available as a free download on the Point-of-Care Partners website for the foreseeable future.
Point-of-Care Partners is a health IT management consulting firm with in-depth expertise in ePrescribing, eMedication management, health information exchange, population health management and multi-stakeholder initiatives. To learn more about how Point-of-Care Partners can help your company understand the changing healthcare landscape and implement effective strategies, contact info@pocp.com.
*Publicly available presentations, reports and other sources were reviewed and considered alongside feedback gained in interviews.
###
Related Links:
Contacts
Point-of-Care Partners
Jeanette Nelson, 877-312-7627, ext. 4
Source: Point-of-Care Partners
Share:
---
Categories: Healthcare Technology, Healthcare Insurance
Tags: drug price transparency, payers, PBM, point-of-care, point-of-prescribing, Real-Time Benefit Check, Real-Time Pharmacy Benefit Check, RTBC, RTPBC
---