Poignant Press Presents a Transformative Journey of Hope Amidst Life's Quirks: Introducing 'Life is Crazy and We're All Going to Die'
Press Release
•
Jun 21, 2023
A Beacon for Spiritually Minded Women in the Prime of Life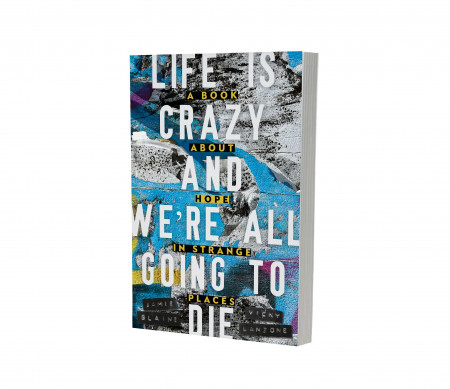 NASHVILLE, Tenn., June 21, 2023 (Newswire.com) - Book readers should brace themselves for an extraordinary literary experience that will awaken their souls, captivate their senses, and leave them yearning for more. "Life is Crazy and We're All Going to Die" is not your average book; it's a thought-provoking true story of two people on opposite coasts and their unlikely story of helping each other see the best in life.
Written by New York Times bestselling author Jamie Blaine and co-conspirator Vicky Lanzone, visionary storytellers and sage observers of life's unpredictable twists, this exhilarating literary tale dares to delve into the enigmatic depths of the human experience. Through its pages, readers will embark on an enlightening adventure that defies convention and embraces the atypical, leading them to discover profound hope in the most unexpected corners of existence.
In a world plagued by uncertainty and brimming with chaos, "Life is Crazy and We're All Going to Die" serves as a steadfast companion, an anchor of solace, and a beacon of optimism. This compelling literary treasure challenges societal norms, encouraging readers to embrace their quirks, fears, and life's inherent beauty, even in the face of challenges.
Prepare to be enchanted by the remarkable wit and wisdom woven throughout this extraordinary story. With a clever touch of humor, Blaine and Lanzone skillfully guide readers through the labyrinth of corridors of existence, illuminating the path with their unique blend of insight, empathy, and transformative storytelling.
Within the pages of "Life is Crazy and We're All Going to Die," readers will encounter stories of triumph over adversity, serendipitous encounters with destiny, and profound moments of self-discovery. This engaging story will resonate deeply with people in their prime, empowering them to embrace their spirituality, celebrate their individuality, and find solace in the knowledge that life's strangest places often harbor the brightest glimmers of hope.
This press release is just a glimpse into the remarkable world awaiting readers within the captivating embrace of "Life is Crazy and We're All Going to Die." For a more comprehensive exploration of the book's transformative power, be sure to read the overview on Amazon and immerse in the transformative narrative that promises to entertain, possibly change points of view and leave an indelible mark on souls.
The "Life is Crazy" book is available July 25, 2023, on Amazon in paperback and ebook format, and available to order for bookstores.
For media inquiries, author interviews or review copies, please contact:
Natasha Miller
Poignant Press
natasha@poignantpress.com
Source: Poignant Press
Tags