Plutus Appoints Patryk Rzadzinski, Previous Director of IT Operations at MoneyGram, as CTO
Press Release
-
updated: Dec 14, 2018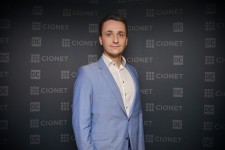 LONDON, December 14, 2018 (Newswire.com) - ​Patryk comes with almost 20 years of technology leadership experience, equipping leading financial technology organisations with tailor-made solutions worldwide. He previously held the position of Director of IT Operations at MoneyGram International.
MoneyGram is an international vendor of payment services with 3000 employees and over 350,000 partners. It is a demanding transaction environment with major financial institutions and banks as customers. Patryk oversaw: IT infrastructure operations, capacity management, transmissions (MFT) operations & engineering, and IT leadership at the MoneyGram International headquarters in Warsaw.
The newly appointed CTO is interviewed to find out more on his ambition to pivot from a legacy remittance service to Blockchain and Plutus.
What made you join Plutus?
"I have chosen to join Plutus as I see an opportunity to be part of something extraordinary, it is one of the rare startups in the crypto sector that has gone from a white paper to a working product. The company is now well positioned to have a sustainable impact on enabling consumers to utilize their digital currencies for easy, everyday usage. Plutus products and their vision of the future in digital banking is truly innovative, achievable and exciting."
What will your new role entail?
"My initial role at Plutus will be to help scale the current product, ensuring a smooth transition from beta into the growth stage. This is paramount in order to deliver on the founder's [Danial Daychopan] vision of a crypto backed payments infrastructure that is used by customers across the world."
What made you transition towards blockchain?
"Why blockchain? With the history of money and how fiat currencies are dominating the world's economy in the 20th century, I want to support the use of cryptography to help deliver on Hayek's dream of private money. I believe it will address many problems and fraud types that current monetary systems suffer from. But DLT is also proving an excellent choice for any system of record or durable medium of exchange, yielding good results compared to legacy applications. With the growing adoption of DLT as a competent technology amongst the C-suite talent base, we will see a rising use-case of DLT across various sectors."
What is your biggest concern for Plutus?
"Security is always a massive challenge, especially for companies in fintech like Plutus; how such companies strive to deliver top-level security is of great interest to me. I was attracted to Plutus because of their unique offering, a non-custodial crypto-to-fiat exchange [PlutusDEX]; it connects the legacy payments infrastructure with the blockchain and removes the risk of financial losses due to hacks, a frequently occurring issue associated with centralised honeypots. This is a key feature that puts the company in a strong position to deliver the ultimate service in this field, and the project is backed by a very talented team of experts."
Where do you position the crypto space in the next 5 years?
"With the market cap of cryptocurrencies and their related hype dropping, a better focus can be placed on the technologies behind them rather than the coin valuations themselves. I personally think it was hard for the industry to work on the challenges faced by the emerging technology given its astounding value and the high level of emotions attached at the time, a lot of the sector's energy was directed towards speculation and profits rather than real solutions that would improve adoption."
"I believe the recent market decline of crypto has brought the crypto-ecosystem back to its roots, developing truly innovative technologies that will change how consumers view payments and transactions in the long-term. I am pleased to now be well positioned to contribute to the future of this ecosystem."
Source: Plutus.it
---
Categories: Cryptocurrency
Tags: bitcoin, blockchain, crypto, cryptocurrency, finance, fintech, payments
---