PLEN Cube Developer Model is Available for Pre-Order
Press Release
-
updated: Aug 1, 2019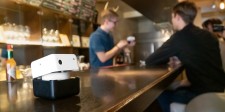 OSAKA, Japan, August 1, 2019 (Newswire.com) - This month, PLEN Robotics, a company specialized in the development of robots, has announced the release of its new AI assistant PLEN Cube Developer Model. PLEN Cube works as an IoT device and comes equipped with the latest face recognition technology, voice command, and software development kits (SDK) for building customized systems. After years of hard work, PLEN Robotics is proud to announce that this AI assistant is now available for pre-order.
''We wanted to create an AI assistant that was useful and more accessible to the public, not only for businesses but also application developers, and in this way revolutionize the idea and use of technologies for a more modern society,'' said PLEN Robotics CEO Natsuo Akazawa. "We aim to be an interface of active AI services."
PLEN Cube is an IoT device that functions as a personal assistant using AI technology. Its cubic size of approximately 7.5cm per side is perfect as a portable device, equipped with camera, speaker and microphone. Using a face tracking function that recognizes and tracks the face of an individual, it is possible to connect and operate with various Web systems and IT devices, such as cashless payment and automatic check-in, while being able to sit in your palm.
Currently, PLEN Cube has been successfully introduced to 12 companies, where experiments are being conducted in order to improve the efficiency of services such as the food industry, cashless payment, subscription services, medical inquiry at medical facilities, and automatic access control systems with automatic door control. PLEN Cube will be able to mimic routine work done by customer service with a ''face pass'', aiming to become an interface of AI services active in the automation and optimization of service businesses.
AI assistant PLEN Cube features
1. Camera: face-recognition and tracking, hands-free photography, video shooting, live streaming
2. Communication terminal connected to the internet with a ''face-pass'' functionality (admission, reservations, membership management, etc.)
3. Controller of external devices (control of smart home appliances and infrared controlled devices, automatic cleaning, etc.)
PLEN Cube Developer Model
PLEN Robotics' new product, PLEN Cube Developer Model, allows users to link with externally developed web services and customize PLEN Cube's functions using an SDK. In addition to being able to customize existing functions such as movement and conversation, users will be able to create their own specialized functions for PLEN Cube.
The types of SDK offered are:
1) Scenario SDK: With this SDK, any user can personalize and manage the basic functions of their PLEN Cube, (these include speech recognition, speech synthesis, motion, display control, IR control, camera control, motion sensor control, acceleration sensor control, network communication, etc.) through a visual editor.
2) User Application SDK: This SDK allows on board application development in common programming language (Python, C/C++, etc.) based on "ROS", which is a widely used robotics middleware both commercially and academically. This SDK is intended for software engineers and developers who would like more flexibility in customization compared to the Scenario SDK.
3) Full Customize SDK: On top of the capabilities offered by the User Application SDK, this SDK also allows the user to fully customize the implementation of the PLEN Robotics Inc. official application such as speech recognition and peripheral device control.
"PLEN Cube" pre-order site: URL http://www.plenrobotics.com will begin shipping by the end of October.
Product Name

PLEN Cube Developer Model

Release Date

Pre-order Start : August 1st 2019 

*Shipping Start : October 30th 2019

Price

Developer Model : 910.00 USD(+tax)

SDK : Starting at 460.00 USD (+tax)

Regarding Commercial license fee or Cloud service fee,

please refer to the official site.

Size

L: 74mm W: 74mm H: 74mm

Primary Functions

Face Recognition, Face Tracking,

Speech recognition and voice control,

Photography, Movie shooting, Panorama shooting,

IR device control, Internet connections

CPU

NXP i.MX6 QuadCore

Connectivity

Wifi, Bluetooth

Camera

Full HD (1920 x 1080 pixel)
About PLEN Robotics: PLEN Robotics is a company focused on the robotics technologies and services, based in Osaka established in 2017 by CEO Natsuo Akazawa.
Contact
Name: Atsuhiko Tomita
Mobile: +81-6-4256-6630
Email: a-tomita@plen.jp
Website: http://www.plenrobotics.com
The above information is true and accurate at the time of publication. Price, specification, contact and other information relating to products and services may be subject to change. The information contains certain forward-looking statements that are subject to known and unknown risks and uncertainties that could cause actual results to differ materially from those expressed or implied by such statements.
Source: PLEN Robotics Inc.
---
Categories: Artificial Intelligence and Expert Systems
Tags: AI, face recognition, hardware, IoT, Robotics, SDK
---