Platypod Launches Kickstarter Campaign for the New Platypod Handle, One of the Most Versatile Accessories in Imaging
Press Release
•
Apr 26, 2023
The Platypod Handle is a vlogger's grip and camera riser, destined to become one of the most diverse creative tools in the company's history. Platypod, the leader in compact tripod alternatives, Platyball and the award-winning eXtreme, is leveraging their broad popularity with their fifth Kickstarter campaign on April 26, 2023.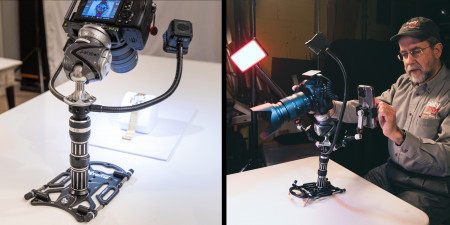 EAST BRUNSWICK, N.J., April 26, 2023 (Newswire.com) - Platypod's fifth Kickstarter campaign launched today on the popular KelbyMedia podcast, "The Grid." The new Platypod Handle joins an extensive product group already established with the Platypod ecosystem. What makes this new accessory unique is its wide versatility in so many different applications.
The Platypod Handle is 1.5" in diameter and extends from 6 ½" to 10 ½" or can be reassembled to 3" in height. At the top stage are eight ¼"-20 threaded sockets to accommodate Platypod elbows and goosenecks. The Handle will support 11 lbs. and has an Arca-compatible base with a stainless steel reinforced 3/8" - 16 socket. It's an all-aluminum machined ergonomic stackable body and is compatible with all Platypods and most common tripods.
"With my inventions, I always try to fill a need with a product that is not currently available. The Platypod Handle combines the functions of a multi-level riser, video grip and cage, a tripod center column extender, as well as a potential boom arm. Like all our quality products the Handle is finely machined, rock-solid aluminum build and will become indispensable in every artist's imaging tool kit." - Larry Tiefenbrunn, CEO/Inventor, Platypod
The Platypod Kickstarter Campaign runs through May 31, 2023. Although the retail price is set at $69, backers can pledge any one of eight different levels, each with considerable savings for both the handle and other Platypod products. First-day backers will be privy to a super special deal.
There are complete details, images, and videos of the new Platypod Handle on the Kickstarter page where backers can determine the tier they prefer and make a pledge. You can learn more about other Platypod models, accessories, and the company's unique, premium Platyball tripod heads at http://www.platypod.com.
Source: Platypod
Related Media