Plastica Tijuana Offering the Latest Advancements in Cosmetic Plastic Surgery in Tijuana, Mexico
Plastica Tijuana is dedicated to offering the latest advancements in cosmetic plastic surgery in Tijuana, Mexico. Plastica Tijuana pledges to provide the finest personal service by world-class plastic surgeons at state-of-the-art facilities.
Press Release
-
Dec 29, 2015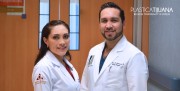 Tijuana, Mexico, December 29, 2015 (Newswire.com) - Plastica Tijuana is  a Plastic Surgery Center of Excellence located at Hospital Angeles Tijuana, Mexico's largest private hospital network and the number one medical tourism destination, just 5 minutes from the Tijuana, Mexico – San Diego, CA. International Border.
Whether you're seeking breast enhancement, body contouring or facial rejuvenation, your one-on-one consultation with board-certified plastic surgeons Dr. Juan Pablo Cervantes or Dr. Jacqueline Aragón allows you to confidentially discuss your desires, develop a thorough understanding of your options and choose the best procedure for you.
"At Plastica Tijuana,  our Board Certified Plastic Surgeons take a skillful and artistic approach to cosmetic surgery. " Said Dr. Juan Pablo Cervantes. "We know about beauty."
Plastica Tijuana provides advanced and natural-looking plastic surgery. Combining the latest in precision technology with the highest standards of surgical craftsmanship, providing a truly first-class experience.
When choosing among the many plastic surgeons for your cosmetic surgery procedure, you have a lot to consider. Education and experience are important, but so are talent, skill and bedside manner. You will find this exceptionally rare combination of personality, credentials, and care at Plastica Tijuana.​
About The Company: Founded by Dr. Juan Pablo Cervantes and Dr. Jacqueline Aragon, Plastica Tijuana is an Internationally recognized plastic surgery center offering cutting edge cosmetic procedures.​
Contact information:
Name: Dr. Juan Pablo Cervantes, MD
Address: Paseo de los Heroes 10999 - 605, Zona Rio, Tijuana, Mexico 22010
Phone Number: 1 (619) 240.8571
Website: www.plasticatijuana.com
Email ID: info@plasticatijuana.com​
---
Categories: Hospitals and Clinics, Surgery, Cosmetic and Reconstructive Surgery
Tags: Dr. Jacqueline Aragon, Dr. Juan Pablo Cervantes, Mexico Plastic Surgeons, Mexico Plastic Surgery, Mexico Plastic Surgery Center, Plastic Surgery in Mexico, Plastic Surgery in Tijuana, Plastica Tijuana, Tijuana Plastic Surgeons, Tijuana Plastic Surgery, Tijuana Plastic Surgery Center
---