pixiv to sponsor 'SSS by applibot' exhibition 'Re\arise #1.6 EXHIBITION L.A.' featuring members BUNBUN, Mai Yoneyama, and PALOW
Press Release
•
May 10, 2023
Supporting creators expanding overseas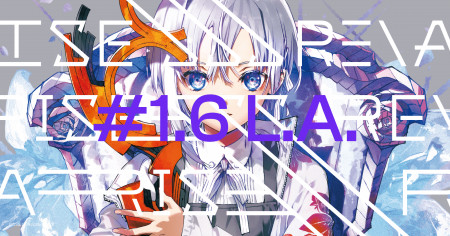 TOKYO, May 10, 2023 (Newswire.com) - pixiv, the communications platform operated by pixiv Inc. (hereinafter referred to as "pixiv", Office: Shibuya, Tokyo, Representative Director: Shingo Kunieda), where users can share illustrations, manga, and novels, will be the corporate sponsor of the exhibition "Re\arise #1.6 EXHIBITION L.A.", which opens on May 27, 2023, at Gallery Nucleus in Los Angeles, California, USA, and features works by the creative collective "SSS by applibot".
"Re\arise #1.6 EXHIBITION L.A." Official Website: https://rearise.sss.applibot.co.jp/1_6la/en/
pixiv aims to help creators expand overseas through sponsorship
"SSS by applibot" includes a total of eight celebrity creators (BUNBUN, Naji Yanagida, PALOW, Sevnzel, taiki, Isssai, Masafumi Takagi, and Mai Yoneyama) who create games, anime, light novels and more.
About SSS by applibot: https://sss.applibot.co.jp/
pixiv has long been actively involved in promoting creators overseas and helping Japanese creators expand internationally. pixiv highly values its ongoing partnership with "SSS by applibot", and is proud to support their members at this all-new U.S. exhibition as the official corporate sponsor.
pixiv's support for creators overseas
As of April 2023, pixiv boasted more than 90 million registered users, of whom 58% are located outside Japan. Of pixiv's non-Japanese members, about 7.2 million are located in the USA, with more than 1.1 million unique users from the USA using the pixiv site each month. American creators have posted a cumulative total of more than 3.7 million pages of works to the site.
In December of last year, pixiv partnered with the U.S.-based publisher Clover Press to release English editions of "Artists in Taiwan" and "Artists in Korea", which highlight the work of creators in those countries. This crowdfunded project garnered a total of $88,524 in financing on Kickstarter, becoming a hugely successful project for introducing works by Asian creators into the Western market.
Then, in March of this year, pixiv partnered with the publisher PIE International to release an artbook entitled "Artists in the Americas", showcasing work by 62 creators from North and South America to proactively support creators from the Americas and help them deepen their relationships with their fans.
Going forward, pixiv will continue to support creative activities and produce opportunities to help creators expand their fanbase internationally.
■ About pixiv https://www.pixiv.net
pixiv is a social networking service for creators, focused on "communication through sharing works".
■ pixiv, Inc. https://www.pixiv.co.jp
Striving to be an exciting space for users to enjoy creative activities, we provide various services to support creators, including pixiv, one of the world's largest art communities, FANBOX, encouraging creators' activities, and the 3D project VRoid.
Representative Director: Shingo Kunieda
Established: July 25th, 2005
Inquiries: Takahashi, Nishidoi
E-mail: info@pixiv.co.jp
Source: pixiv Inc.
Tags