Pipette.com Releases New Additions to the Oxford Lab Products BenchMate Product Line
Press Release
-
updated: Nov 29, 2017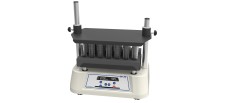 San Diego, CA, November 29, 2017 (Newswire.com) - The success of the Oxford Lab Products BenchMate product line to date has prompted Pipette.com to expand its Oxford Lab Products BenchMate offering further, with the addition of 8 new products to the range available at www.pipette.com. The new releases include tube rollers, tube rotators, hotplate stirrers, orbital shakers and a large capacity multi tube vortexer. These additions complement the existing pipettes and benchtop equipment in the Oxford Lab Products BenchMate range.
The tube rotators include an Analog Tube Rotator and a Digital Tube Rotator. The tube roller is an Analog Tube Roller to add to the two Digital Tube Rollers already available. In the liquid stirring department, two sizes of Hotplate Stirrers have been added to the Magnetic Stirrers. The Orbital Shakers join the Four Plate Shaker to expand the range of shakable vessels, and the Multi Tube Vortexer is added to the vortex mixer range to increase productivity further. In striving to provide scientists with "Legendary Performance, at Unbeatable Value", Oxford Lab Products provides high-quality lab equipment at affordable prices. This trend continues with the addition of these new products.
"The new products we have added to the Oxford Lab Products BenchMate range at Pipette.com match the needs of our customers, based on what they do in the lab" says a spokesperson from Pipette.com. The new releases fit in with the rest of the BenchMate product line, which aims to meet molecular biology laboratory needs of scientists around the world.
The Oxford Lab Products Multi Tube Vortexer is one of these new product releases which has been designed to meet a very specific need, and increase assay throughput by allowing the aggressive mixing of multiple tubes simultaneously. This may be very useful for sample testing labs. This product has multiple attachments for the vortex mixing of different vessel types. All the other new additions to the product line are also related to different liquid mixing needs. The full range of products is now available online at Pipette.com.
Source: Pipette.com
Share:
---
Categories: Sciences, Medical Research, Biology
Tags: BenchMate, Lab Equipment, New Products, Oxford Lab Products
---