Pipette.com Now Offers the Best Pricing of the Year on Scientific Industries' Vortex Genie 2
Press Release
•
updated: Nov 8, 2017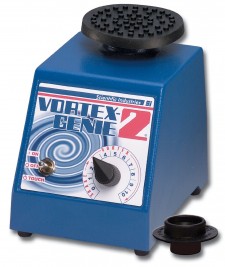 SAN DIEGO, November 8, 2017 (Newswire.com) - Pipette.com understands that providing a fair price is important in today's online market. That is why Pipette.com is the clear winner when it comes to finding great deals on lab equipment and calibration service. After comparing 20-plus distributors' websites, the pricing offered by Pipette.com is one of the best online! With an online price of $269 for the Scientific Industries Vortex Genie 2, it's the best value out there.
The Scientific Industries Vortex Genie 2 is proudly manufactured in the USA. It's built to last and is Scientific Industries' most popular vortex mixer, undoubtedly being the most reliable on the market today. It has variable speed settings to allow low/high-speed mixing for long periods of time. It's sold with a standard 3-inch circular platform and a Pop-Off Cup. With 30+ platform accessories, any scientist can be sure to find the appropriate solution to whatever type of tube and/or plate they wish to shake. This vortex mixer is sold in two formats, a Digital Vortex Genie 2 and an Analog Vortex Genie 2. So, depending on their preferences, scientists can choose whichever style works best for them. It also comes with a variety of plugs to use all over the world.
The Scientific Industries Vortex Genie 2 comes with a two-year MFG warranty, although it's very common for these pieces of equipment to last 5-10 years in the lab. As mentioned above, this unit is very sturdy and weighs just under 9lbs (4 Kg). This hefty weight helps ensure that the vortex mixer won't wander off the bench when operating (which can occur with cheaper competitors). It also has shock-absorbing rubber feet to keep it situated in one place. It comes with a 3-position power switch to toggle between continuous action or touch operation. The continuous operation mode can help any lab increase its efficiency, although the touch operation is the most commonly used setting. It truly is the gold standard of vortex mixing!
To get a formal quote on the Vortex Genie 2, or any other products found on the Pipette.com website, it's best to call or email one of their Pipette Enthusiasts at 1-800-243-3232 or info@pipette.com.
Source: Pipette.com
Additional Links