Pinnertest Promotes Nutrition & Wellness This Award Season With Food Intolerance Testing Fit for the Stars
Celebrities stopped by the Pinnertest booth at Kari Feinstein's Style Lounge to discuss diet and nutrition optimization.
Press Release
-
updated: Sep 20, 2017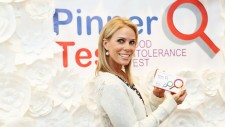 NORTH BERGEN, N.J., September 20, 2017 (Newswire.com) - Last week Pinnertest kicked off award season by discussing health, nutrition and the negative side-effects of hidden food intolerances with Hollywood superstars at Kari Feinstein's Style Lounge celebrating the 2017 Emmys.
"By testing against 200 foods at once, Pinnertest eliminates the need to go through tedious elimination diets that can only determine one problem food at a time," said Patricia Costa, Director of Digital Marketing and Social Strategy at Pinnertest. "It's the perfect tool for anyone that suspects some of the negative symptoms they experience on a daily basis is due to an unidentified food intolerance."
Get the same test your favorite celebrities use to look and feel their best amid their hectic Hollywood schedules:
How It Works
Taking the Pinnertest is as easy and convenient as it gets. Just follow the simple steps below:
Order a kit from the Pinnertest website.
Receive a blood collection kit in the mail.
Extract a couple drops of blood using the easy-to-use finger prick tool.
Fill out the included consent form that allows Pinnertest to test your blood.
Send back a blood sample and paper work in the provided free-return envelope.
Wait 7-10 business days for an email describing which foods you're intolerant to.
Once receiving an email detailing all of your food intolerances, the next thing to do is to simply eliminate the highlighted foods from your diet.​
About Pinnertest
Pinnertest is a food intolerance testing company that uses advanced microarray scanning technology to analyze blood samples and identify an individual's food intolerances.
This progressive technique works to identify the foods that respond negatively with an individual's system–all with just a few drops of blood dispensed by a basic finger prick.
What's Food Intolerance?
A food intolerance can occur when the body cannot properly digest and convert the foods you eat into the necessary nutrients that fuel your system. This maldigestion causes inflammation, which can lead to many negative food intolerance related symptoms including fatigue, migraines, eczema, bloating, gas, congestion, weight gain, brain fog, joint aches, diarrhea, skin rash and more.
Pinnertest is the leader in the food intolerance testing market with over 500,000 satisfied customers and countless life changing testimonies. For more information, visit www.pinnertest.com or email info@pinnertest.com.
Media Contact:
Patricia Costa​
​​patricia@pinnertest.com​
+1 (201) 535-8691
###
Source: Pinnertest
---
Categories: Active and Healthy Living, Nutrition, Dieticians and Nutritionists
Tags: Emmys, Food Intolerance, Health, Lifestyle, Nutrition
---